The easy access to this hill is off of forest road FS-6081 (you'd want a high clearance vehicle) which was not passable for us. It leads to a spur road that goes almost to the top (this is also blocked to vehicles by windfall and some erosion). Good thing we had a plan B – which was to follow the PCT - Trail #2000, south from the nearby Crest Horse Camp.
The PCT winds closely around the east side of Capacitor Hill just below the access road and it wouldn't be difficult to reach it in some places by going straight up through the woods. I opted to stay on the trail and travel alongside a large lava field. After about 3 miles of waving at mosquitoes and getting over numerous blow-downs, I turned off on a clear and short side-trail (the previous PCT route I think) that connects to the bottom of the spur road on the south west side.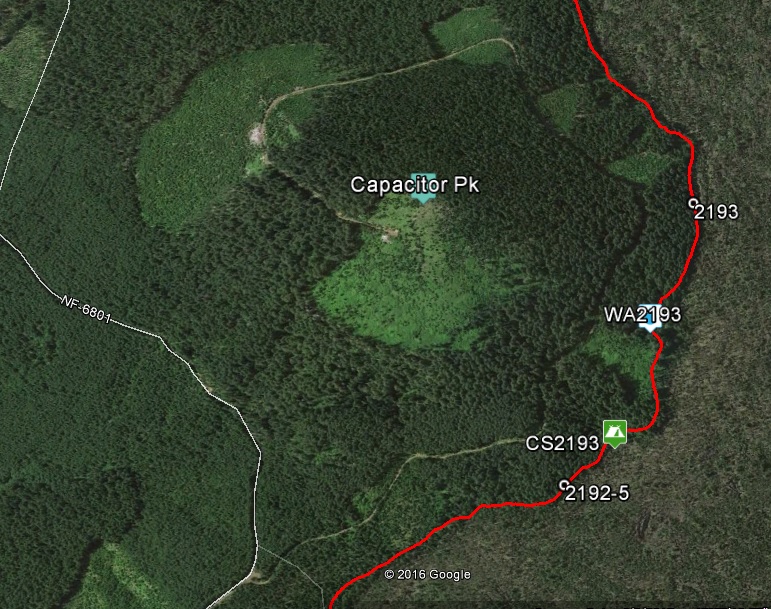 The spur road winds up Capacitor Peak counter-clockwise for about a mile and ends about 100 vertical feet from the summit. It's mostly open brush from there, and an easy but fairly steep scramble. There is plenty of room for a dipole, a nice view, and logs to get set up on. I saw lots of "sign" along the road and one small black bear who didn't care for my singing voice.
This was my first activation with the new KX2 and I was excited to have a microphone available. I was able to check into the Noon Net on 40M, but didn't make any SSB SOTA contacts. I hadn't posted an alert, and couldn't self-spot so I appreciate the keen ears of the CW chasers who found me out on this particularly hot Friday morning. Got 11 of you logged before I had to head back down and catch up with my other hiking friends who went on ahead to camp near tomorrow's peak – W7W/LC-069 Big Huckleberry.
Directions to Crest Horse Camp:
From Carson, Washington drive north for 4.8 miles on the Wind River Highway to Panther Creek Road. Take a right on Panther Creek Road at the sign for Panther Creek Campground. Stay on this road, which becomes Forest Road 65 at the forest boundary, for approximately 11 miles. At the intersection with Forest Road 60 (known as 4 Corners", take a right onto Forest Road 60 (passing FS-6081 on your right). Travel about 1.7 miles on Forest Road 60 to the campground and Pacific Crest Trail access.