Voice Cellular Coverage:
No service at all
Data Cellular Coverage:
Spotty, may not work at all
APRS Coverage:
Good digi echos
Summary - An hour to the trailhead from SE Portland, followed by a 1.5 mile steady climb along a well-used (by ATVs) forest road, Bob's Mountain is an easy morning activation. There are trees for hanging wires, an open view a bit below the summit (but still in the AZ), and open space to operate. APRS two way worked well, ATT data was okay. Given the ATV traffic, this hike is better done on a weekday. You'll find a GPX track, beginning in Cape Horn, covering the drive and hike here: http://www.pnwsota.org/content/gpx-track-lc-139
TL;DR - I decided to celebrate my birthday with a SOTA hike but where to go? I needed to be back around lunch time and I didn't want to spend four or five hours in the truck anyway... Bob's Mountain? Looks quiet. There's a hike. About an hour from home to the trailhead. Perfect!
There are a couple of ways to get to the trailhead; the gpx track above, which starts in Cape Horn (Salmon Falls Road) is straight forward. You be on paved then gravel then dirt roads so you can probably get to the trailhead in a 2WD vehicle. You'll park under the power lines and follow the forest service road up hill. 4WD vehicles with some clearance can get a half mile closer but eventually you will see this: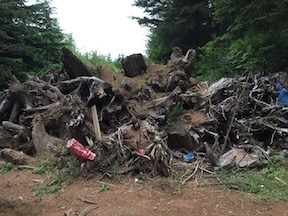 That's a rather large pile of stumps, rocks, and dirt that someone put up to discourage the ATVs, I guess. It didn't work, as they cut a path around it that you can follow.
A few yards further, on the other side of the barrier, you will see a ATV path head left and up from the road. Follow this path which will climb up and around to the summit.
Once at the top, you will find a quiet, open area, lots of trees, and no views. APRS digi works well. ATT digital service worked for SOTA Goat spots. I made 2M simplex contacts with a half wave whip and worked 40, 30, and 20 meters using 5W and a EFHW set up as an inverted ELL. There are plenty of tall trees to hold up a wire, too.
Thanks to all the chasers that offered birthday wishes and patiently worked me on CW, especially toward the end of the session!
This is one of those activations where it is easy to spend more time on the air than in the truck. The hike is three miles round trip climbs about 800 feet and, above the road block, a nice walk under tall pines. And yes, you can really be out there and back before lunch!
Here's my operating position on the summit. No view but pretty comfortable.