Voice Cellular Coverage:
Decent, workable
Data Cellular Coverage:
Decent, workable
APRS Coverage:
Don't know
Thomas Cairn is a 4321 ft peak located 0.6 miles northeast of it's better known sister Snow Peak (4292ft) in Linn County, Oregon. The peaks are 14.3 miles east of the town of Scio. This summit could be accessed entirely on public lands (BLM) but it would be extremely difficult and treacherous when there is snow on the ground. This attempt was completed using a combination of BLM and private lands. The 7.0 mile round trip hike featured 1325 feet of elevation gain and was mostly done on BLM-access roads, jeep trails, logging roads and a bit of bushwacking. The last mile of the hike was snowed in at the start of May. All the private land owners were ameniable to responsible walk-in recreation.
Driving Directions -
Starting from the town of Scio, travel east on highway 226 for 8.2 miles and then turn south on Jordan Road. 1 mile later when you reach Lady of our Lourdes Catholic Church in Jordan, turn left on County Road 830. Travel 3.6 miles before turning left and crossing a concrete bridge onto Neal Creek Access Road - 10 1E 23 0. The paved one lane road (with pull outs) will wind its way 6.0 miles to the south until the pavement ends. Pull off to the left and park at this point. The road will turn to gravel and continue on to the right at the Y. There is a jeep trail that will lead north to the logging road system you will want to use to access the peak. The parking spot is 3062 ft and is at 44.64228, -122.58650.
Day of Activation -
I arrived at the parking spot around 11:30. It me almost three hours to make it to Thomas Cairn and get inside of the 25 meter from the Summit Activation zone.
The 1.14 miles section on the jeep trail, featuring wildflowers and tree filled views of Snow Peak, was steep but doable.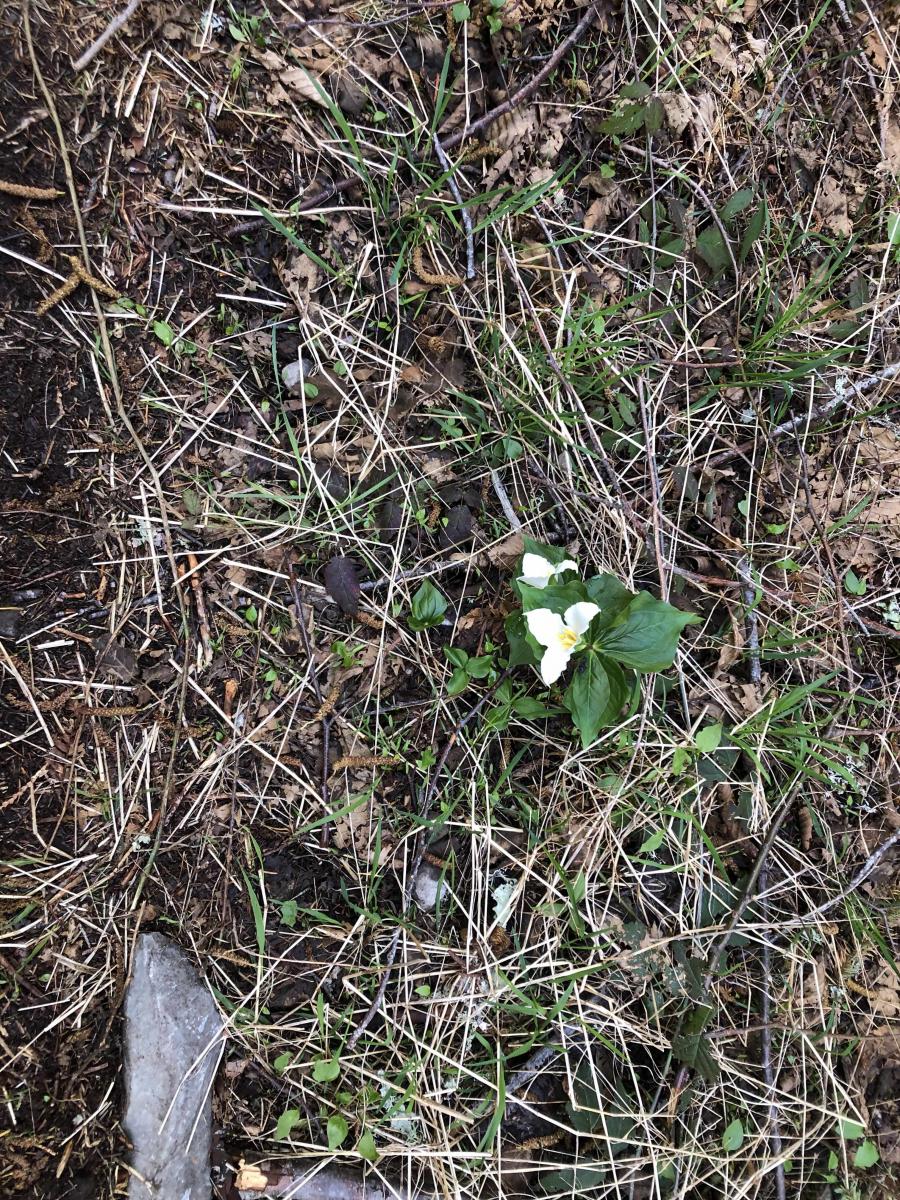 -Trillium on Jeep Road
I turned right onto East Neal Creek Rd - 11 2E 5.0 and started encountering snow drifts at 3675 ft. After about .5 miles in the forest the road opens up above a Weyerhauser clearcut and provides nice views of the Thomas Creek Drainage to the north and the Willamette Valley to the west.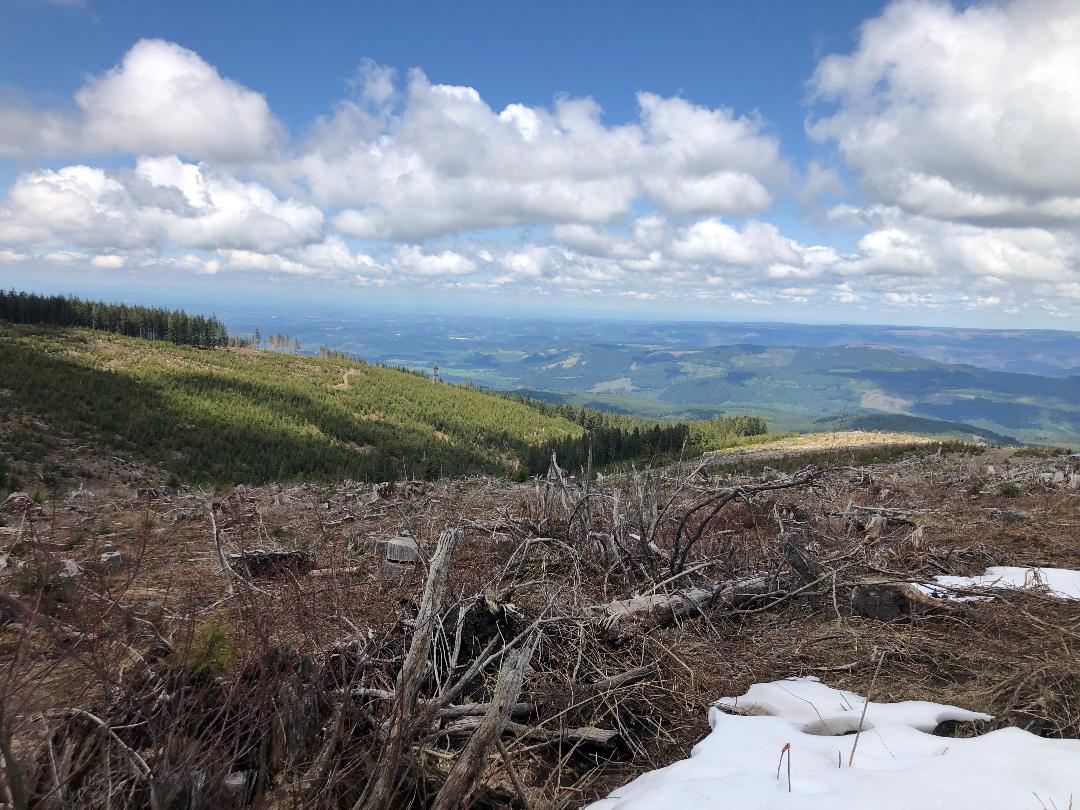 - View from Weyerhauser Clearcut looking NW toward the Willamette Valley
Another .75 miles on a mostly shaded logging road leads to a small lake.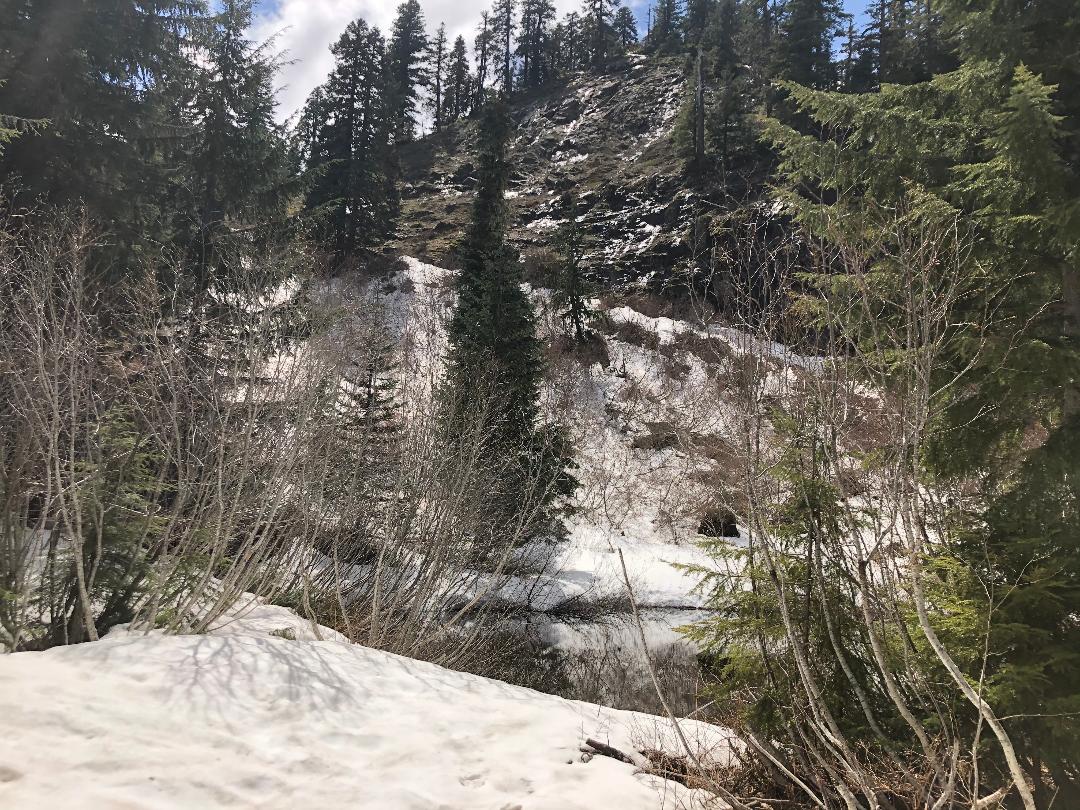 - Sub Alpine Lake
The next .7 miles were uphill and snowed in on a shaded logging road.I turned SW on an old skid road and proceeded 500 yards uphill to the West.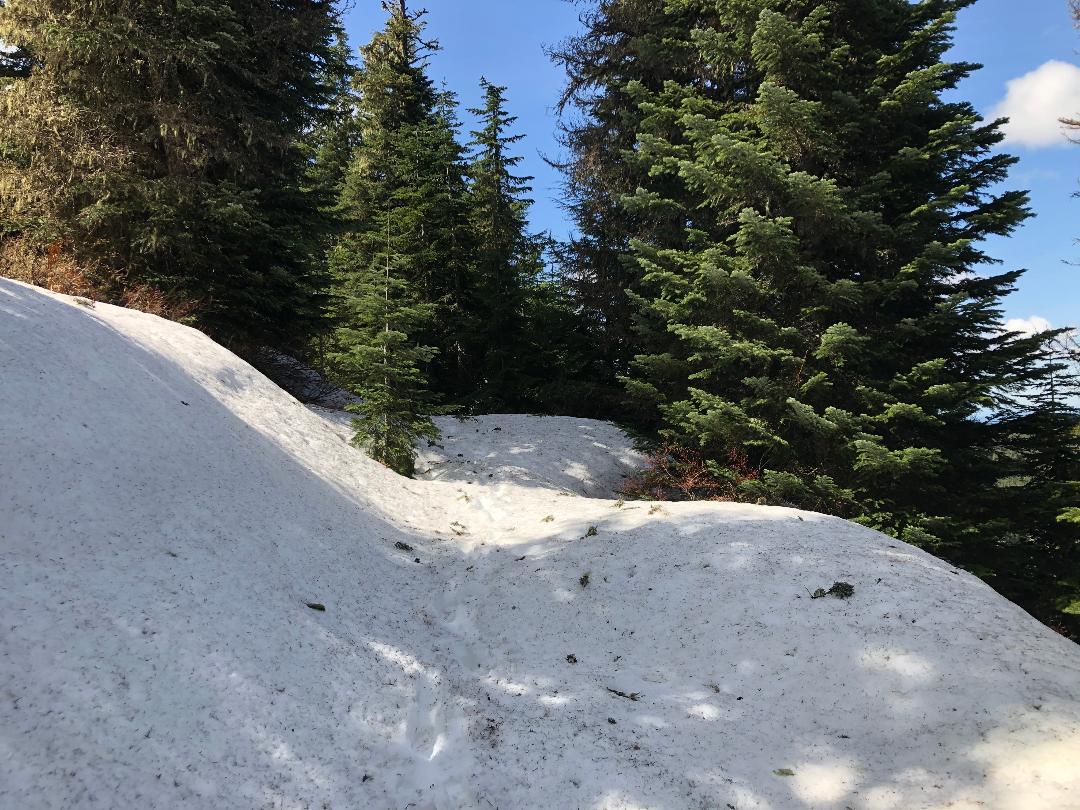 - Snow Covered Skid Road
From there I bushwacked SE up the heavily forested spine of the ridge to the edge of a snow-covered talus field. I dropped my back, crossed/climbed the talus field and was pleased to find a perch within the activation zone that did not require any rock climbing.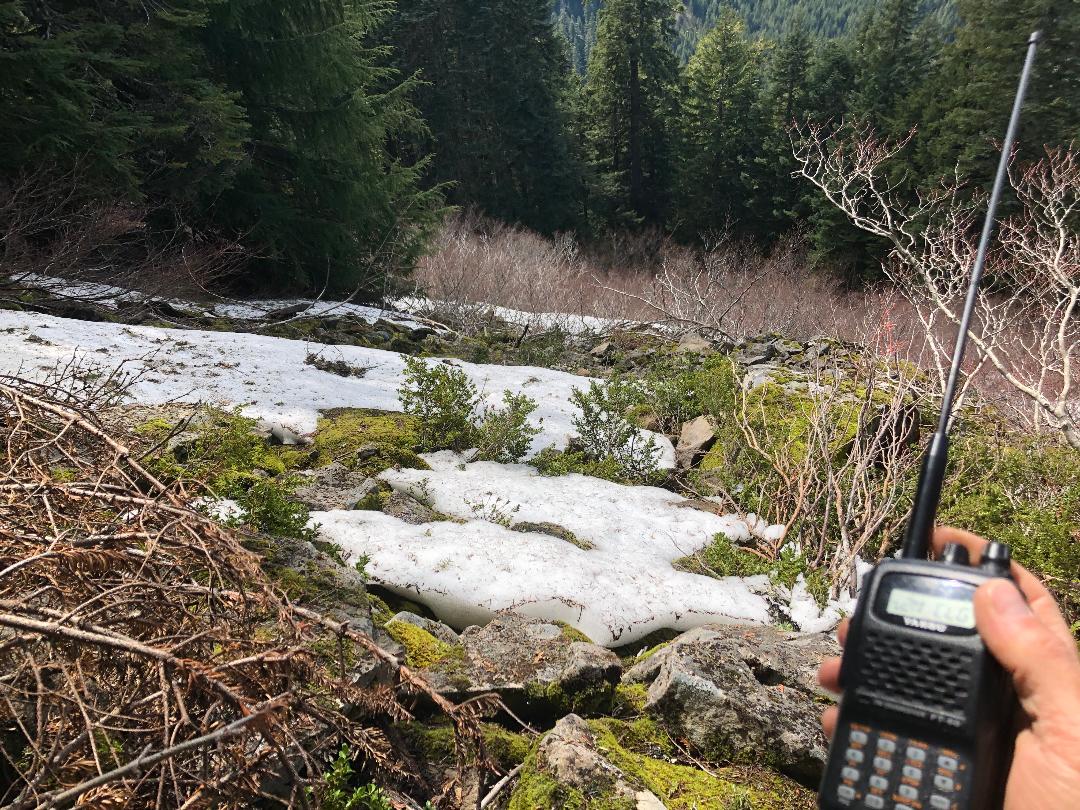 - Snow Covered Talus Field
I was also very pleased to see that I had good cell coverage. I was able to make one local QSO on my FT-60 with a rubber duck. Then I switched to an 18' whip and made five more contacts including two in Washington. It was fun to enjoy the views of the Willamette Valley to the WSW.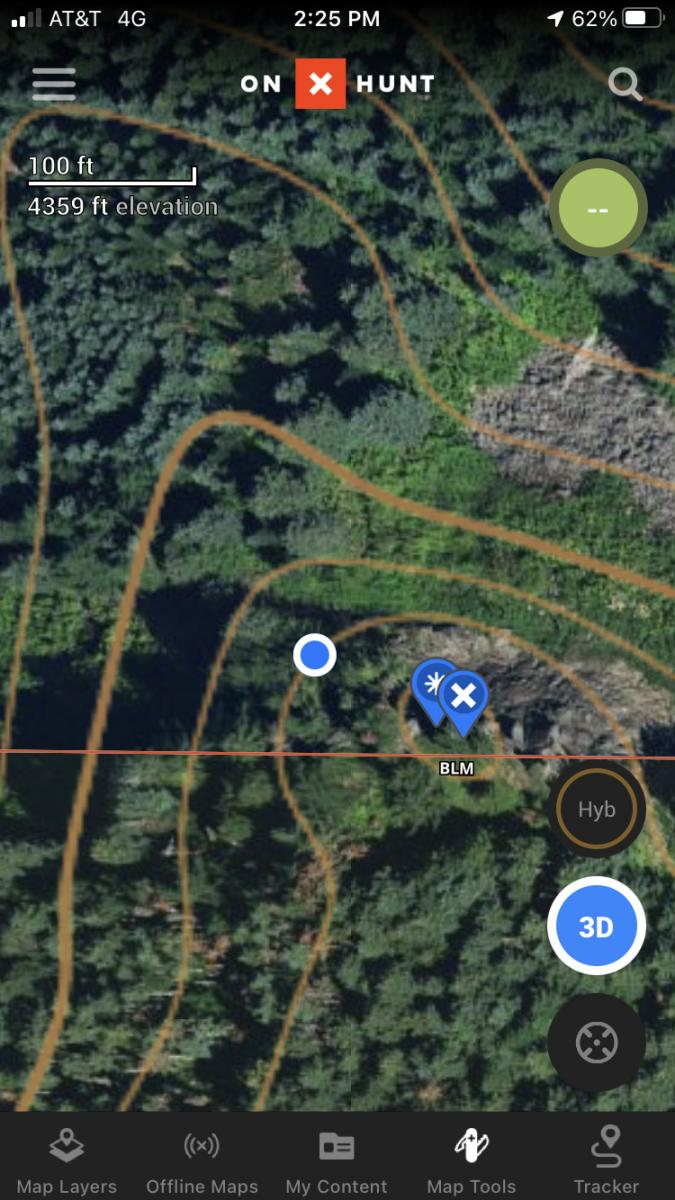 - Activation Site with 40 foot contour lines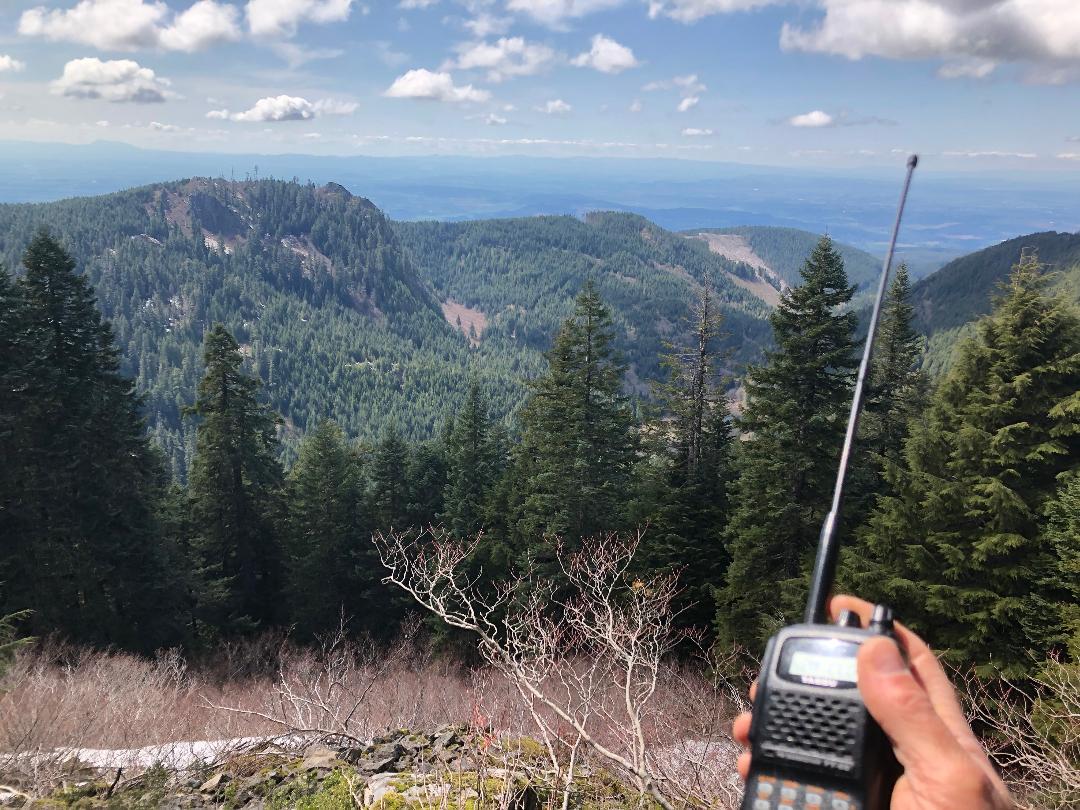 - View from Activation Site on Thomas Cairn looking WSW towards the Willamette Valley
I started down, only falling once crossing the talus field, and recovered my pack. Coming back down the skid road I noticed a large mountain to the north.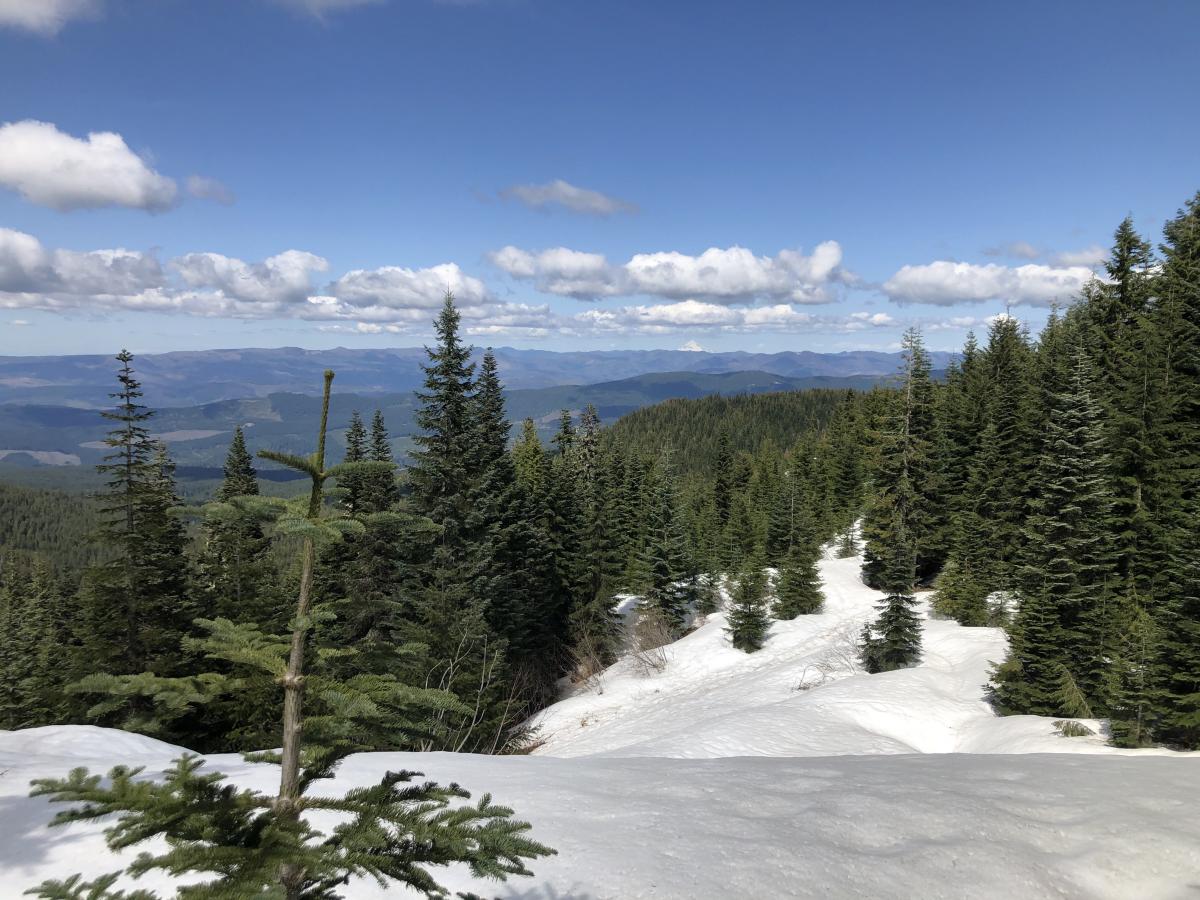 View of Thomas Creek and Snow Covered Mountain to the North
It only took me 1 hour and 40 minutes to work my way back down to the parking area. I must admit I was pretty smoked by the time I got there. Overall, it was a fun, half-day trip.