Voice Cellular Coverage:
Don't know
Data Cellular Coverage:
Don't know
APRS Coverage:
Good digi echos
2011-09-24 Palisades Peak W7/RS-008 CN96EW77
Start elev.: 6111 ft (1863 m)
Max elev.: 7083 ft (2159 m)
Total ascent: 3078 ft (938 m)
Trip odometer: 9.3mi (14.967km) Up: 4.8mi (7.725km) Down: 4.5mi (7.242km)
Total time: 11h07m Up: 4h Down: 2h45m
Video
APRS
Get up soon after 0400. Quick shower and on my way to the garage, to get the car. I packed my backpack Friday afternoon and put some other stuff (GPS, camera, boots, etc.) into a shopping bag. I only had to get dressed and grab the two packs on the morning. My pack weight about 50lbs. I have measured it to be around 49 without the antenna which is in the car and weighs about 2 pounds. Again I will take about 100oz of fluid with me. However, this time I head to a McDrive for breakfast first on the morning. This is what I usually do before hikes. Get two egg sausage McMuffins, which usually last till noon. I take some coke with me and throw a RedBull on the back seat. Maybe it will be good when I get back to the car. 0508 I already drive south on I-5. It is still dark and there is some traffic, but not much.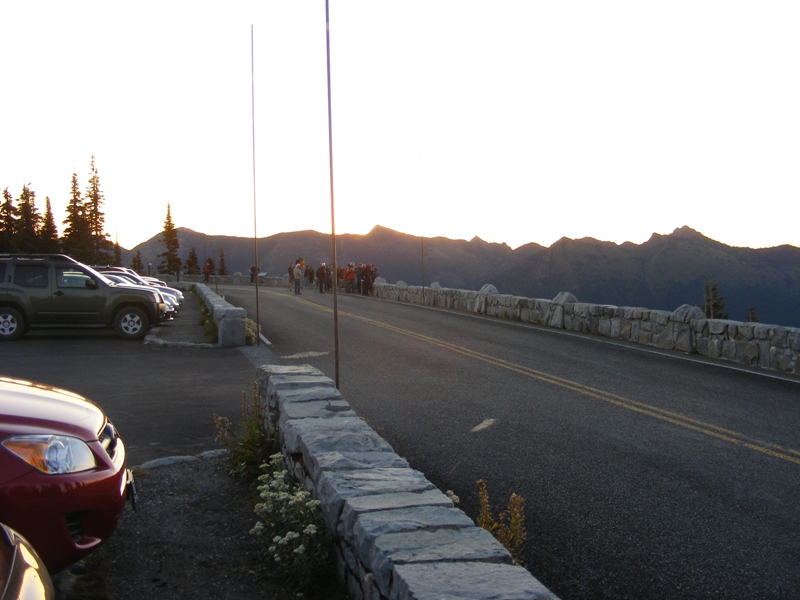 There is no one at the entrance again, although the lights were on. Drive through. 10 more miles the car park from here. This side will be closed around October 20. Got surprised when reached Sunrise point, as the car park is full with cars and there are a lot of people around. I thought I will be alone at this time of the day. :) People are waiting for sunrise and making photos.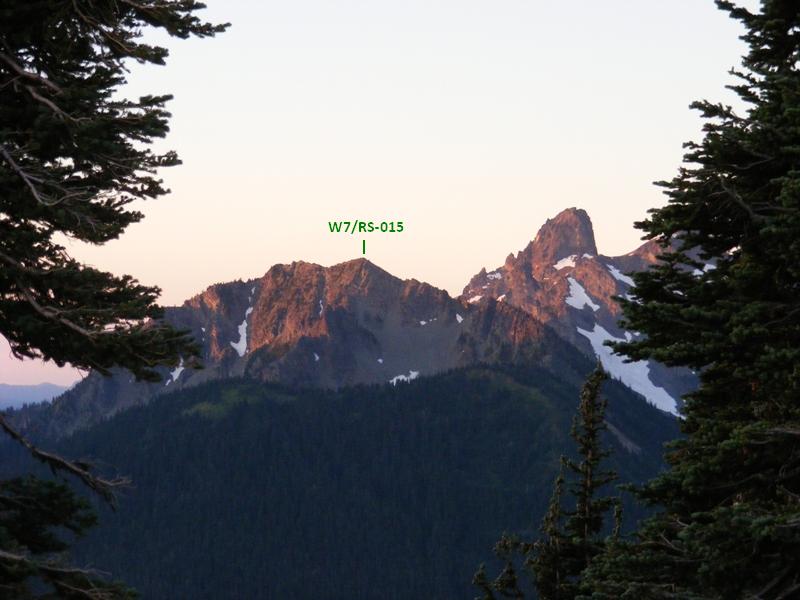 There is a really good view from here. On the picture my previous activation, Tamanos mountain.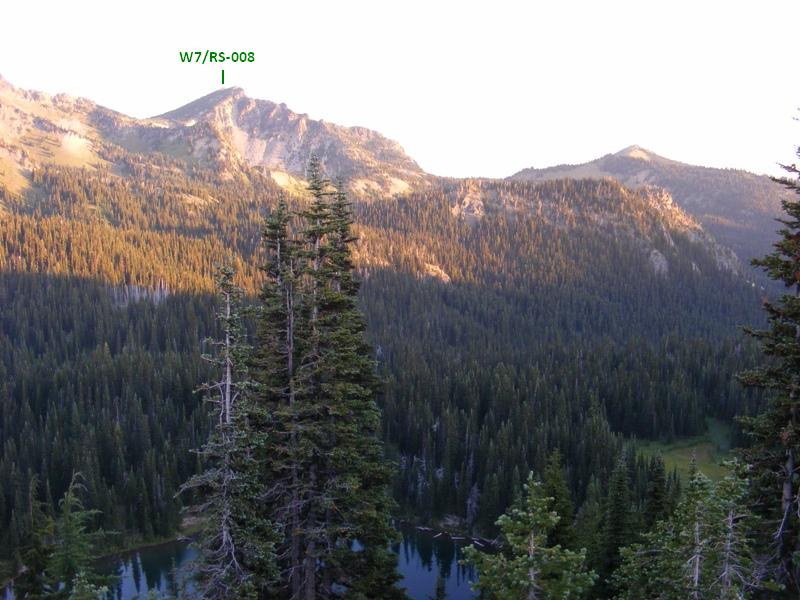 On this one, my goal for today: Palisades peak. 300ft below me one of the many lakes, the Sunrise.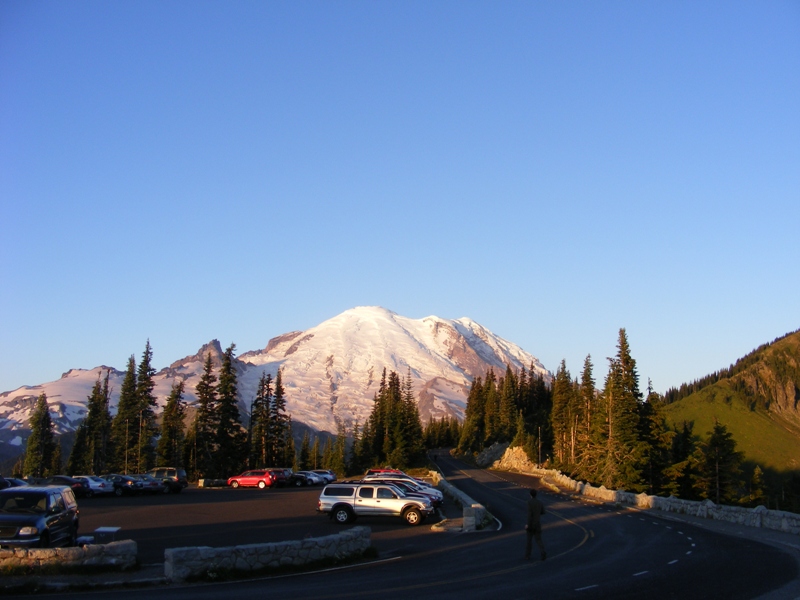 Take my backpack, start the APRS beacon, grab an apple and start walking. 5 minutes after I just feel that something is not right. I left my walking sticks in the car. Good start. Luckily the elevation drop is not really started yet. With my sticks in my hands I start this hike again, but before that I also take some pictures of the volcano lit by the rising sun.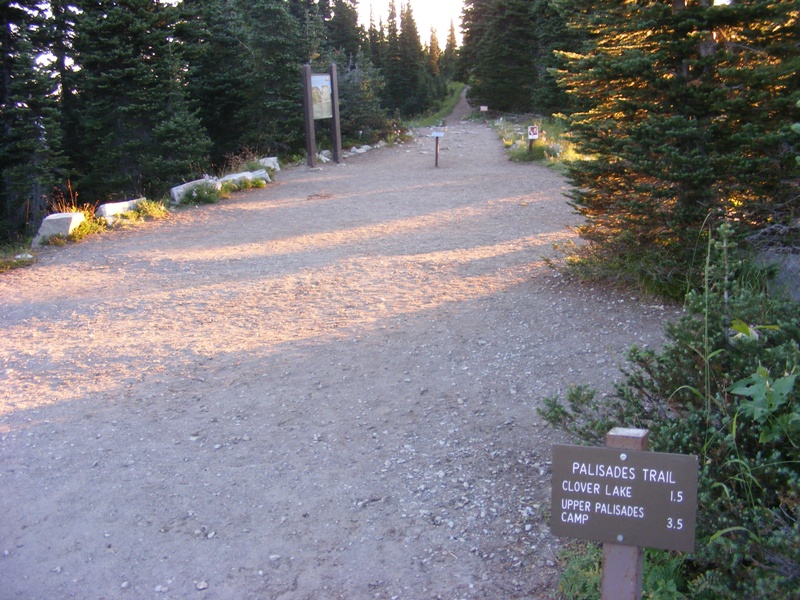 I do enjoy that the hike starts with a descend, but also know that it will be a pain at the end of the day when I have to climb this back all tired. There are a lot of drops during this hike. I climb one hill and immediately go down on the other side. The sing says 3.5 miles to the Upper Palisades Camp. I do not have to follow this trail for that long, because plan to get up from the other side. I planned to activate Marcus too, but I have left it for some other time.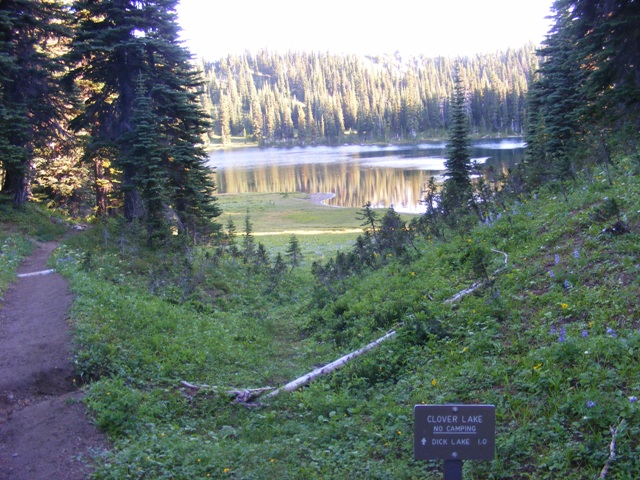 Making good progress and I am not feeling tired. It is still shade in the valley and temperature is very pleasant. I descended a lot, than up a little and down again. Not even an hour after my start I am at Clover Lake. Start some elevation gain here, but once I reach the top the trail goes down again. With this descend I reach the lowest point of the trip approx. 550 feet below the starting elevation.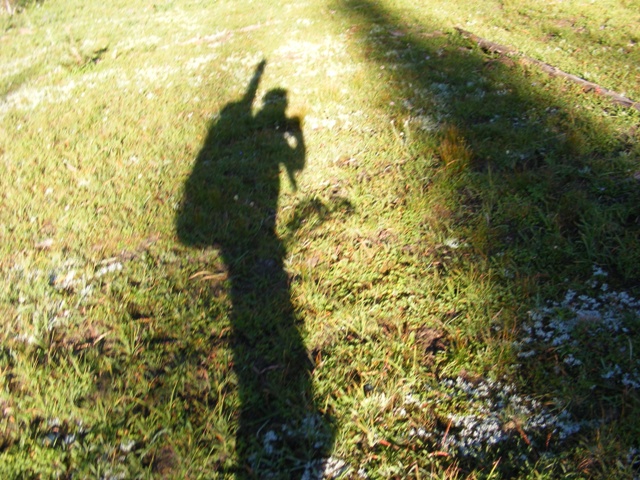 Here at the lake another hiker catch up with me. Chatted for a while, but soon I fall behind. Cannot keep up with a superlight hiker. Path goes amongst trees and bigger glades. My shadow on the grass.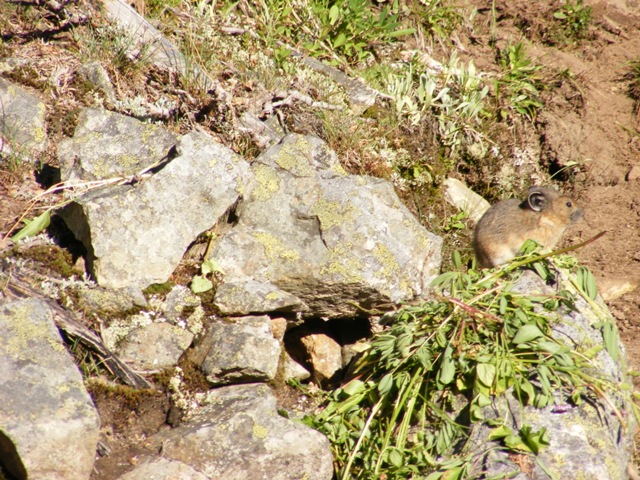 Some kind of rodent. Interesting how piled up the grass near his hole.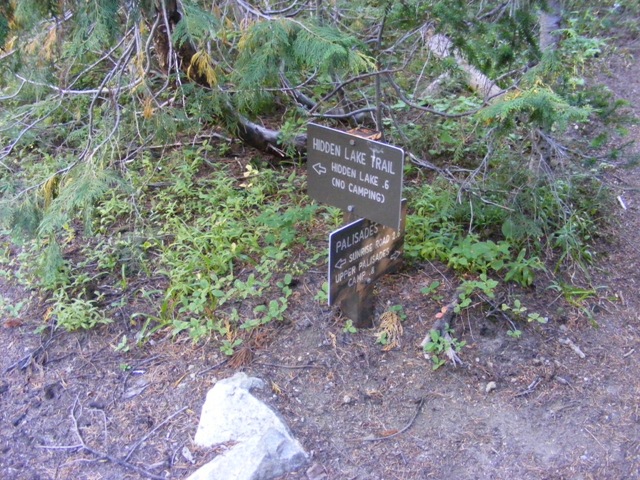 Less than one and a half hour I reach the junction to Hidden lake. One could go straight and up to the summit from north. I was not sure which peak I can do I choose this route. This route is also shorter. The sign says 2.6 miles to the Sunrise road, so far I covered 3.1 miles.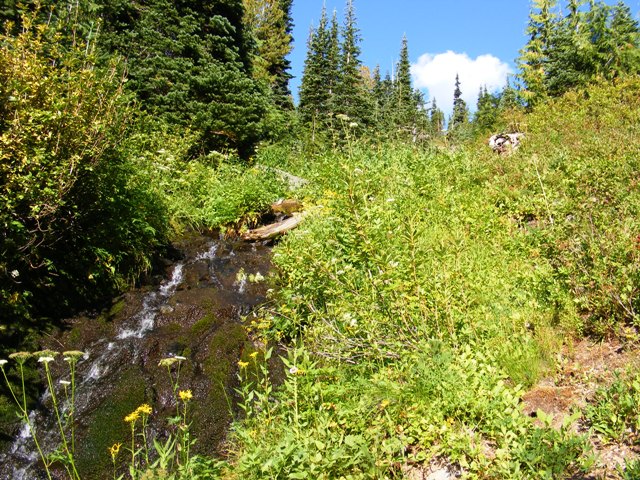 From this point on I only ascending. Luckily there are parts which go in level, but there is no more descending what I should climb back later. Only up, on flat and up again. I have crossed some brooks, but did not find those to be good for water. Once I reach this rivulet I stop and fill up my bottle. The water will be good on the summit and for my food. I drank a little from it too and it had a sweet taste.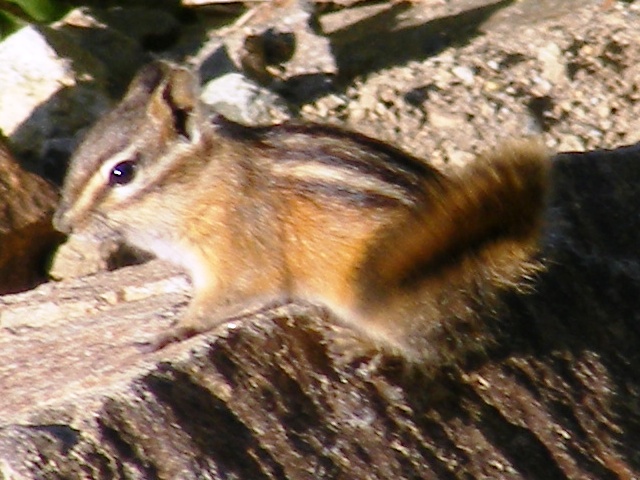 Saw a lot of chipmunks on my way.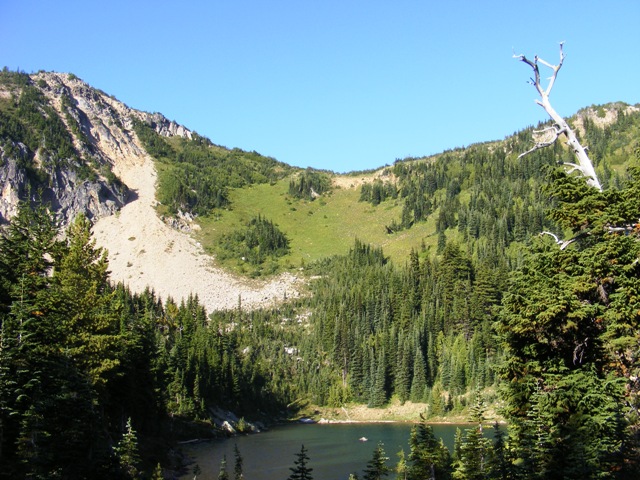 I reach the Hidden Lake, which looks awesome. The path goes on the left side of the lake than up. At the far end of the lake the maintained trail ends. There is a good path up on the meadow to the col. The bottom of the hill is covered with dense small pines and I had to play to get through because of the poles sticking out of my pack. And this is only the beginning.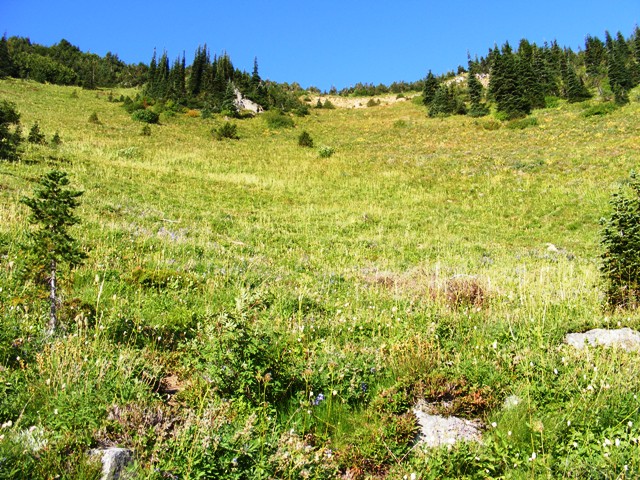 So far my progress is really good, compared to myself. Up on the hill I slow down a little and started to feel the elevation, but nothing serious. Usually I am good up to 8000 feet from sea level. Although, this also varies. On Tamanos near to the end I could hardly walk :). Now I enjoy the fantastic weather. Down in the valley I was leeward. As I climb up I start feeling the wind too. Big gusts were forecasted for today. September sun also not that strong anymore and as there are no white rocks or snow on my way I haven't used sunglasses during the whole trip.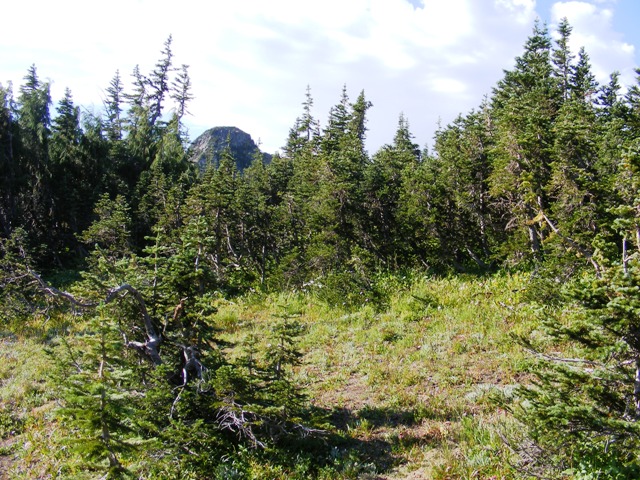 I reach the saddle and decide that I will climb the Palisades first. Start orienting to right, but soon there are dense small pines everywhere. I already determined in Bulgaria that these can be very impenetrable. I do not want to turn around and I do not know what is the usual way to the summit, so I go forward. It was very hard to fight through this "jungle". I ended up on a small glade. Looked back and took a picture, where you can also see the top of Marcus Peak.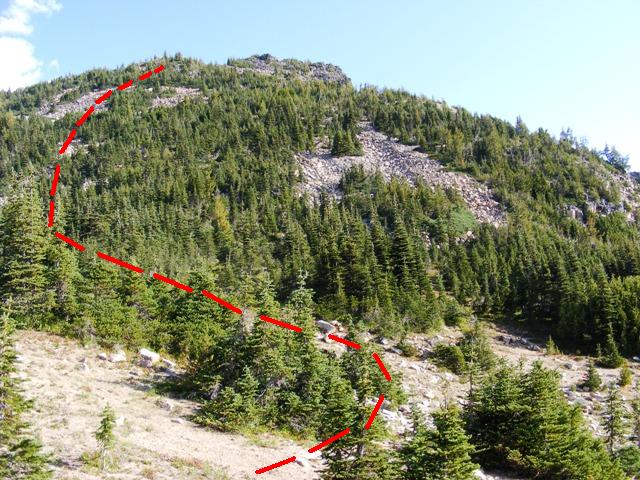 In front of me the summit. On the left dense pines, the hill on the right. I plan my route to go most on the rocky parts. I managed to go this way pretty much. On the moraine I can go very fast and I really enjoyed it. I only have big problem when I reach a wall of pines on the upper end of the moraine. Here I have to make a big step up, all the branches blocking you, and the pole on my backpack does not help at all. I search for a good spot for a while. Did not find any easy opening, one place I start to power through. This is not an easy task for me. Got some bigger scratches on my leg and a lot of resin on my hands. I could not use the walking sticks here. Had to hold on to the trees itself.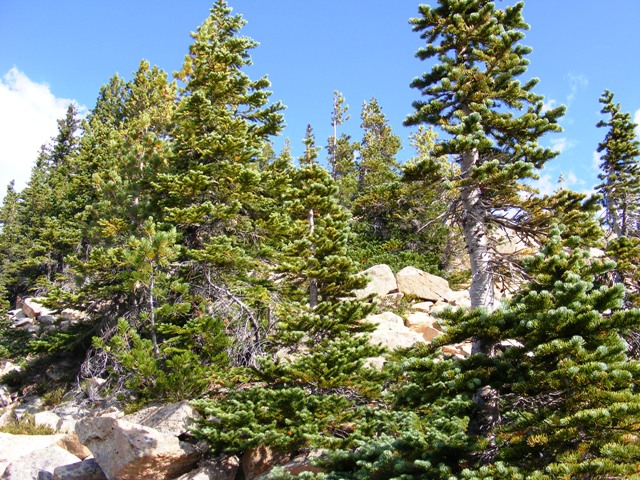 After this point pines will be sparser and it is easy to walk amongst them. When I reach the top I take a glance on the GPS. Oh, this is not even the summit… The real summit is a little bit onto the north.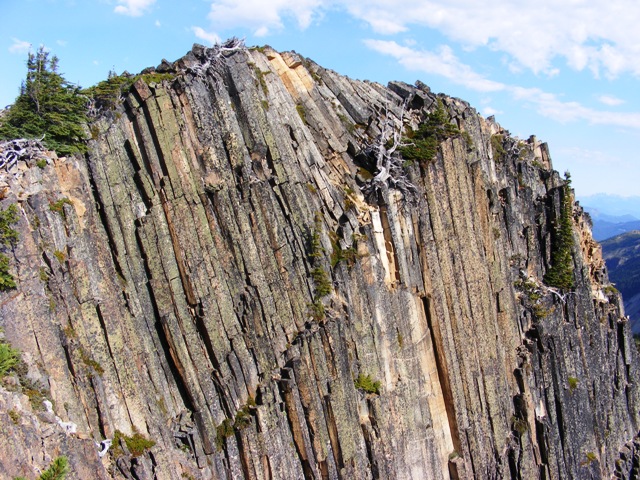 To reach the real summit I have to descend a little. There is a huge "C" shape drop between. I think it is still in the activation zone, but I am here only once and that couple of minutes does not count. It is quite easy to get out of the activation zone, I guess. 30ft is not that much. There are huge gusts up here. Some of them throw me off balance.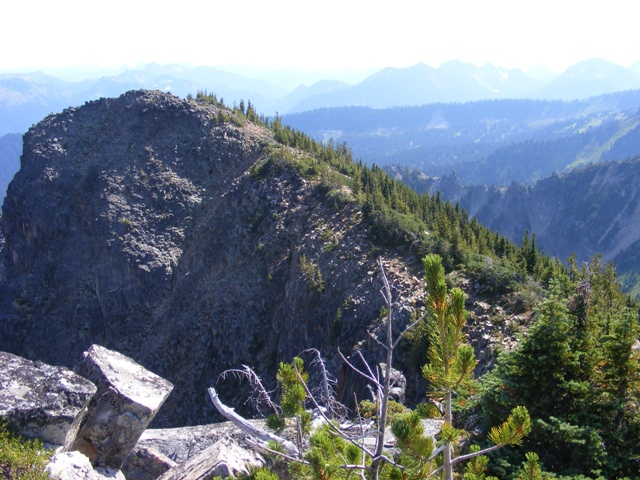 The false summit. Climbed over from there.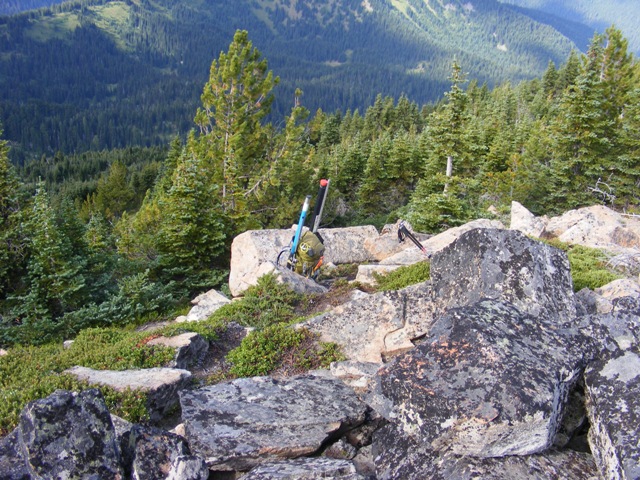 My pack on the true summit finally. This summit is really good. Spacious, there is also a good spot for my pole between the rocks. I repaired the fishing pole and this time I put it into the Yagi holder pipe. This way it is easier to rotate it too. Assemble the antenna and raise it up. The wind moves it all over sometimes, but at the end I did not guy the mast. I also put my SOTA flag on the top of the pole.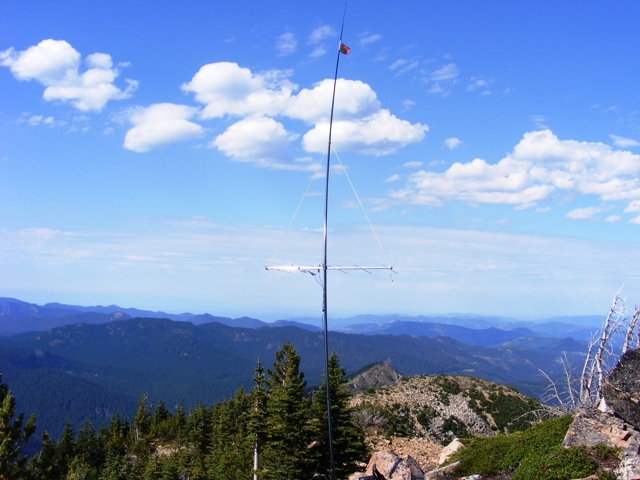 Start the activation in FM. Andrew K7ASQ is amongst the first contacts. He is on W7/RS-038 with his 5 element logper yagi. In 20 minutes FM kills one of my internal batteries. Dave tells me this during my first SSB QSO. Quickly switch the rig to the second battery. FM is not really a portable mode :D, but on the other hand I could have been on a smaller power than 20W. Chatting in SSB when I hear Gabor VE7DXG. Go back to him immediately. He is in mobile with 5W on a vertical. QRB: 256Km Wow! I am very happy about this. Note that I was horizontal so at least 20dB loss :). Unfortunately I forgot to switch on my camera to record the activation, so I do not have the QSOs recorded. Not like on Tamanos, when I recorded almost my whole activation. It is good to listen it again from time-to-time. After Gabor there is another Canadian station on the frequency too. With Andy we were chatting on the SSB calling frequency. At least we made some activity on 2 meter. I hear John from Vancouver Island with 51. Fantastic! QRB: 436Km. Not bad, I guess.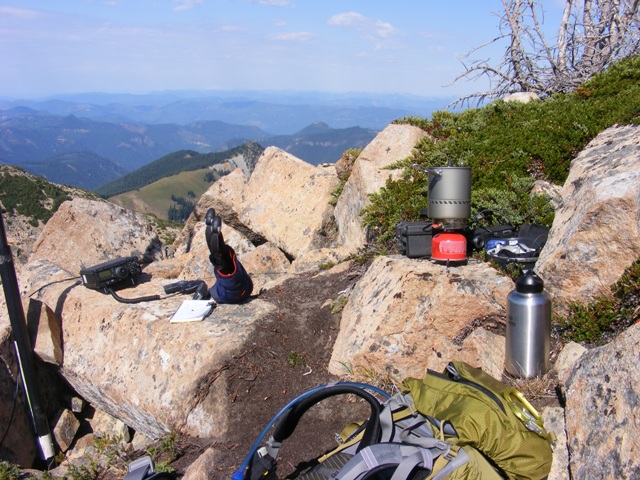 Once there are no more stations I start boiling water. Meantime the radio is still on receive. I need 16 ounce for my macaroni. The rest I pour into my backpack's tank. Disassemble the station and eat my lunch while enjoying the view. Time is already way passed lunchtime though. :)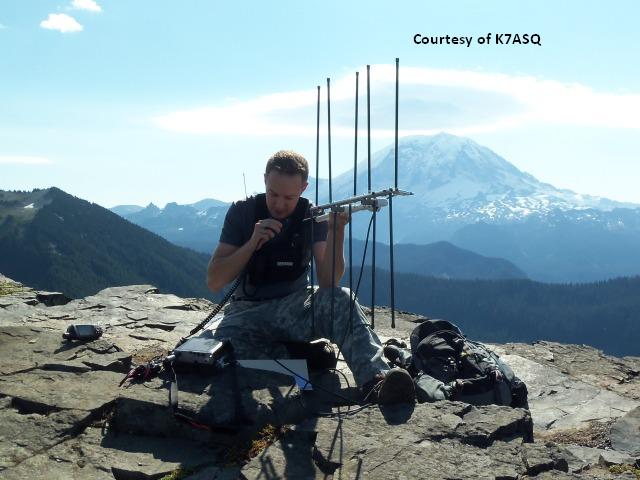 Andrew's station.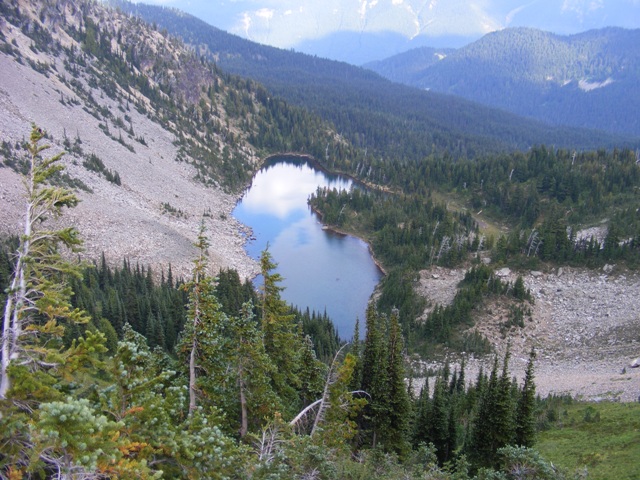 Hidden Lake on my way back from the saddle. This was a very good activation. Next time I will try Marcus Peak. The route will be exactly the same up to the saddle, where I have to turn left instead of right. On my way down from the summit I find the "real" way, which I should have used on my way up too. There is no need for any bushwhacking this way :).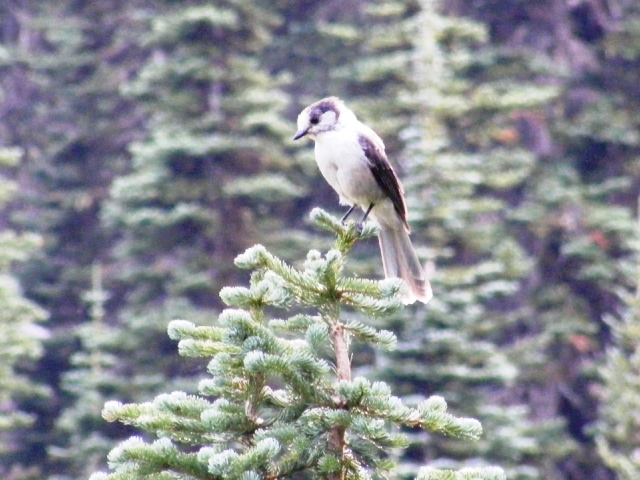 Down in the valley I took a picture of this Grey Jay. My water lasts up to the end of the last hill.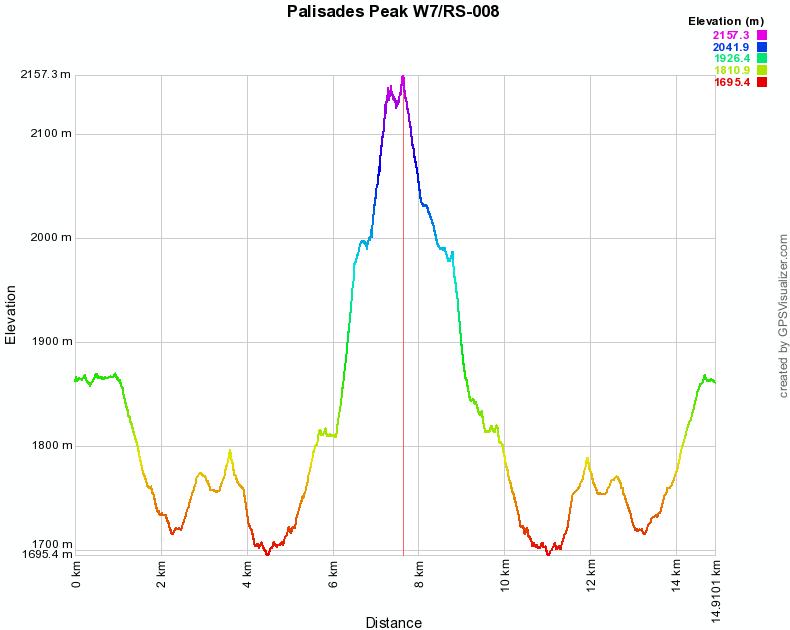 A super hike. Although, I was not able to do a double activation, as I planned, but I am not sad. This is a beautiful area and will be happy to come back here to bag Marcus. I spent over 4 hours on the peak.
HG1DUL 2011