Voice Cellular Coverage:
Spotty, may not work at all
Data Cellular Coverage:
Spotty, may not work at all
APRS Coverage:
Full two-way messaging
Summary - Three Corner Rock (TRC) is easy to get to, includes a lovely forest hike with a steady climb, and a open summit with great views. 2M contacts into Portland are easy to make with a half-wave whip. Bring a mast if you want to put a wire in the air as there is only one, eight foot tall, tree to work with. The drive is about 90 minutes from the east side of Portland. The hike climbs about 1100 feet over two miles and is mostly on the well-used PCT. Parking at the trailhead is very limited and the summit area sometimes has a lot of visitors; plan to arrive early. Pro tip: bring sunscreen and your Northwest Forest Pass!
TL;DR - Three Corner Rock can be accessed by several combinations of roads and trails. The hardest hike is probably from the currently closed Three Corner Rock trailhead. You get to an easier hike by driving from the Skamania Lodge on Route 14, parking at Rock Creek Pass, and hiking south to the summit on the PCT. Here's the driving and hiking routes I took: Three Corner Rock route GPX files.
The early morning drive is about ninety minutes from SE Portland and includes a trip ($2.00 toll both ways) across the Bridge of the Gods at Cascade Locks. There's only room for three or four vehicles at the Rock Creek Pass trailhead and the summit is popular; planning for an early arrival is a good idea. A Northwest Forest Pass is required to park. The forest road is generally in good shape but only one vehicle wide for much of the way.
The hike is almost two miles long and rises a little more than 1100' through the forest. There are a couple of steeper sections with switchbacks on the much-used and well-maintained trails. You will be on the PCT until you make the turn for the summit trail (45.73701, -122.04320) and will likely encounter both through and day hikers. Take care to mark the exit from the summit trail to the road on which you will finish the hike as it is easy to miss the entrance on the way back.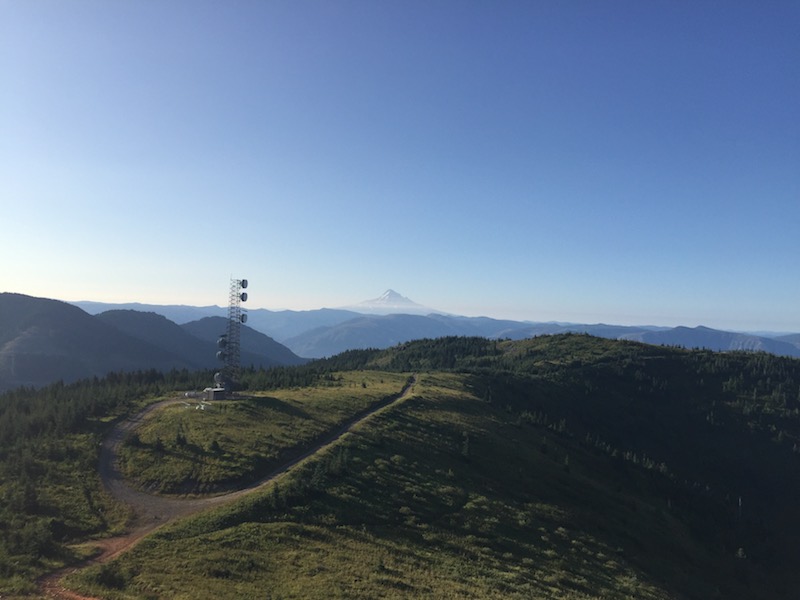 The summit area is open, with a communications facility below the rock pile that marks the summit proper. There are awesome views of Mt. Saint Helens and Mount Hood and you have a line of sight view of Portland.
You can climb the summit block, mostly over the remains of some ill-conceived concrete work done decades ago. It is worth the view but take care as it is a bit of a scramble.
2M contacts into Portland with a half-wave whip were easy. I brought a yagi but didn't set it up. APRS works well. ATT cellular service is marginal and I found it difficult to self-spot using my phone. I didn't notice any significant RFI from the communications facility.
Since I expected hordes of hikers to show up, I didn't set up on the summit block but at the base of it. That was too bad because I had the hill to myself the whole morning but it worked out okay.
I spent most of my time working HF using an EFHW trapped antenna. The ground is very rocky and I didn't relish the thought of pounding stakes into it to guy a mast. Luckily there is one tree on the summit. It is only eight feet tall but I strapped a mast to it and set my antenna up as a sloper. Conditions were good and I worked more than two dozen CW stations on forty, thirty, and twenty meters.
This is one of the nicer hikes-with-radio in this part of Washington, combining a forested walk with a steady climb on good trails, a wide open summit with plenty of places to operate, and killer views. Go early in the morning and you will likely have the place to yourself. Here's a couple of closing photos, first looking up to the summit and then looking down from the summit.