Voice Cellular Coverage:
Don't know
Data Cellular Coverage:
Good, very usable
APRS Coverage:
Full two-way messaging
Summary - Little Huckleberry's small summit is open, has terrific views of the surrounding mountains, and is a nice place to operate. The trail is easy to follow, climbs about 1800 feet over two and half miles, and is popular, so an early start is a good idea. Bring a mast if you want to hang a wire. Two meters works okay. Both APRS and ATT digital service are reliable.
Long Version - Little Huckleberry Mountain is an old fire tower for good reason. You will have good views of the surrounding forest, nearby buttes and the big peaks. The summit proper is small and drops steeply on all sides. The trail is easy to follow and climbs steadily but for a long level stretch halfway through and several steep pitches, notably at the saddle between the two summits and during last quarter-mile, so trekking poles are a good idea. This is a popular hike, even after the huckleberries are gone.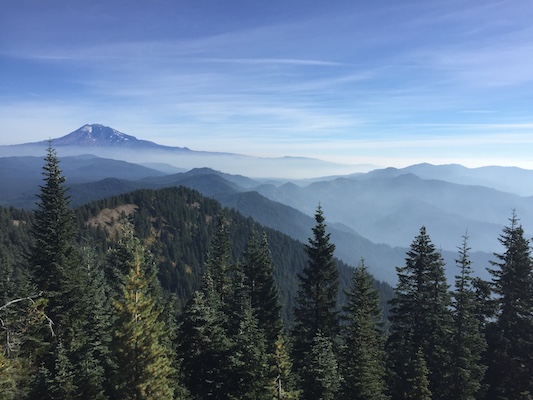 I used a half-wave whip and three element beam to make 2M contacts into Portland and Vancouver. If you want to work HF, bring a mast or plan on working on the steepish incline below the summit where there are small trees. I was on the summit early and setting up for a couple of hours wasn't difficult. When there are other folks up there, doing so will be more difficult. I used ATT digital cellular and APRS to spot myself.
You can get to Little Huckleberry trailhead (45.905, -121.704) from the south by Cook-Underwood Road from WA14 or by taking WA141 to FR24 through Trout Lake. Google gives good directions. There are several other hills in the immediate area, including Wo-mann Butte, Mann Butte, Peterson Ridge, and Flattop Mountain, making a multple summit day if you don't mind bushwhacks. There is parking for seven or eight vehicles at the trailhead, which is well marked.