Voice Cellular Coverage:
No service at all
Data Cellular Coverage:
No service at all
APRS Coverage:
Good digi echos
Summary - 3420 (Mount Beacon) is on Weyerhauser's Longview land northwest of Merrill Lake and is most easily accessed through a gate at the end of Kalama River Road. The highway drive is roughly eighty minutes from PDX; to the trailhead, plan on another hour or so along logging roads. The hike is roughly 1.5 miles and an eight hundred foot climb and ends in a nice operating position with views to the west. Don't count on two meters to make your four QSOs. There is no ATT cell service but APRS pings get picked up.

A Weyerhauser recreational permit (which includes a key for the gates) is required for access. The company is actively logging in the area and trucks and equipment *always* have the right-of-way. This can mean a long, scary reverse on one lane roads with few turnouts and significant exposure. Weekends are quiet and the best time for a visit. Given the confusing welter of logging roads, the company-authored map is a must.


Here's the view west from the summit: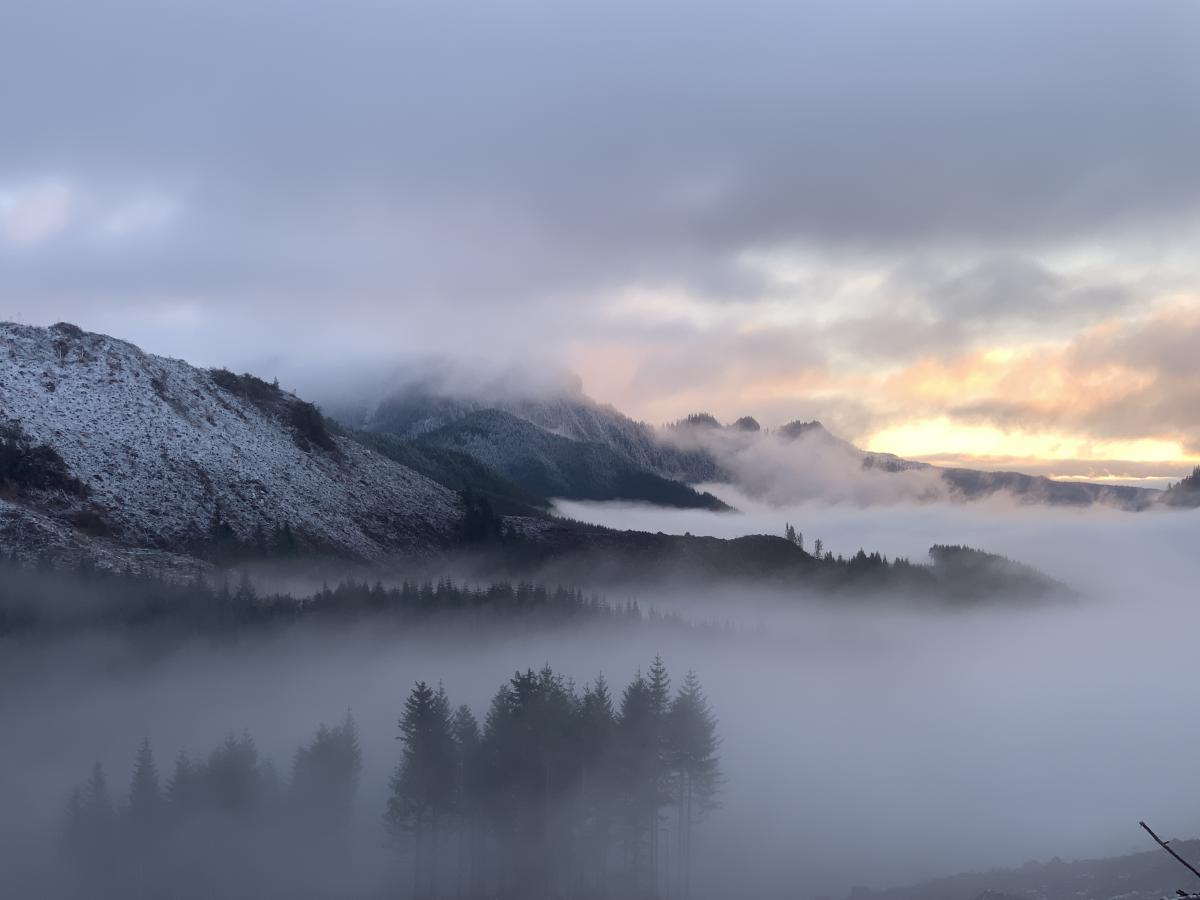 Long Version - 3420 is part of a group of peaks that includes Bull Mountain, 3860, 3566, and 2466. You could bag all of them on a two day visit and probably get Lakeview and Bandwidth, too, if you are energetic. On this trip, though, my aspirations included just 3420 (Mount Beacon) and 2466 (Amplifier Peak). To get there from Portland, take I-5 to exit 32 and follow Kalama River Road to the Weyerhaueser 6000 gate. After the gate, you have another seventeen miles of logging roads to the trailhead. You can drive within a mile of the peak before hitting the spot where the road is bermed. My suggestion is to park down lower, at 10T 547221E 5110968N, and hike from there.

From parking to the peak is about eight hundred feet of up and 1.5 miles of hiking. It is a gradual climb up to the saddle between the two summits on the ridge (10T 546530E 5109572N, elev 3250 feet) where you can either hunt for the abandoned road that leads up to the summit or just turn right and bushwhack across the mostly open forest. I chose the latter.

The summit is long and broad and has good views west. There are plenty of nice places to set up and trees for hanging wires. As usual for this area, I didn't have any luck on 2M, texting with a cell phone was difficult, and APRS was workable. There was a contest going, so the airwaves were filled with QRO stations doing 50 words a minute, but I still managed QSOs across four bands over the course of an hour. In warmer weather, this would be a good spot for an extended stay and it is easily combined with Amplifier for a two peak day.