Voice Cellular Coverage:
Decent, workable
Data Cellular Coverage:
Decent, workable
Cellular Provider:
Verizon
APRS Coverage:
Good digi echos
Fair warning, this one is a bit of a tricky one. This summit doesn't have a trail to the top at all. You could possibly access it from the Mountain lakes loop trail but it would be a very steep scramble over loose rock, it looked a bit too dicy to me when I did my scouting hike around the loop a few months earlier. I elected, instead, to use part of the old moss creek trail which was abandonded by the forest service but is still maintained by individuals. The old moss creek trailhead is located on land owned by green diamond and is only open to vehicle traffic during fall hunting seasons, from the first of September the end of November I believe. The coordinates for the parking area, which is a term I use loosly are 42.366165, -122.046075 . There are no signs to get to this location, instead of you have to follow google maps imagery and even then, a few of the roads that show up on google maps no longer exist. I have included a graphic below showing the route I've taken to get there. You turn off of Highway 140 and go south through the yellow gate that should be open during hunting season.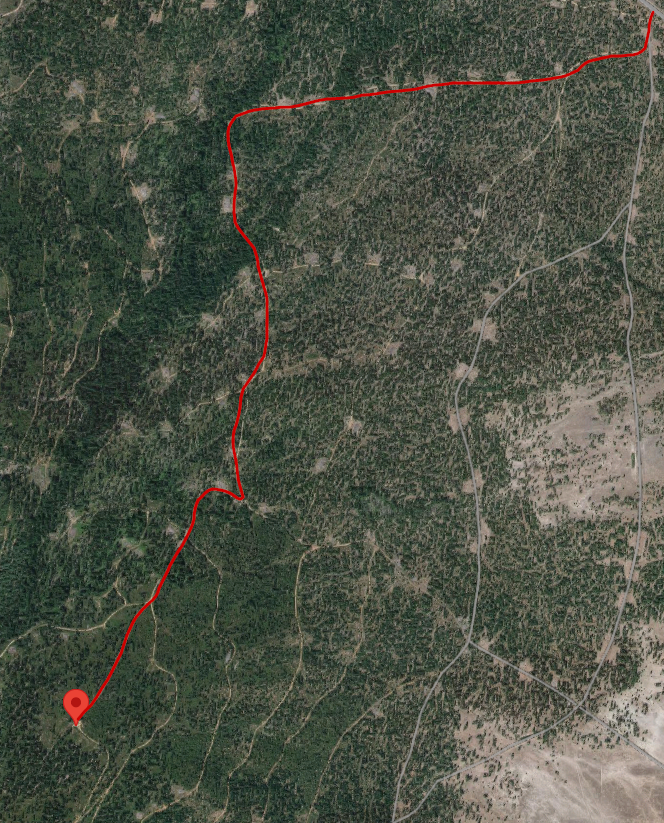 Once you get to this trailhead, there is a slightely worse road that continues uphill which leads to the actual trail. There is a single parking spot about 100' up there but if it's already in use, you have to back down the narrow road which is encroaged by manzanita on both sides. The trail quickly starts to resemble a trail as you weave through the manzanita to get up into the trees. Once you reach the trees, the trail becomes much easier to follow, enjoy that because you won't be on the trail long.
At .4 miles in I left the trail and headed south up the ridge. Mount Carmine is roughly shaped like a half crescent from the above, I followed the edge of that crescent to the top as I felt it was easier traveling than trying to just cut straight across. This area has never been logged and is full of blowdowns so it is a constant exercise in route finding. The last half mile or so it does get slighly more open which is a nice relief.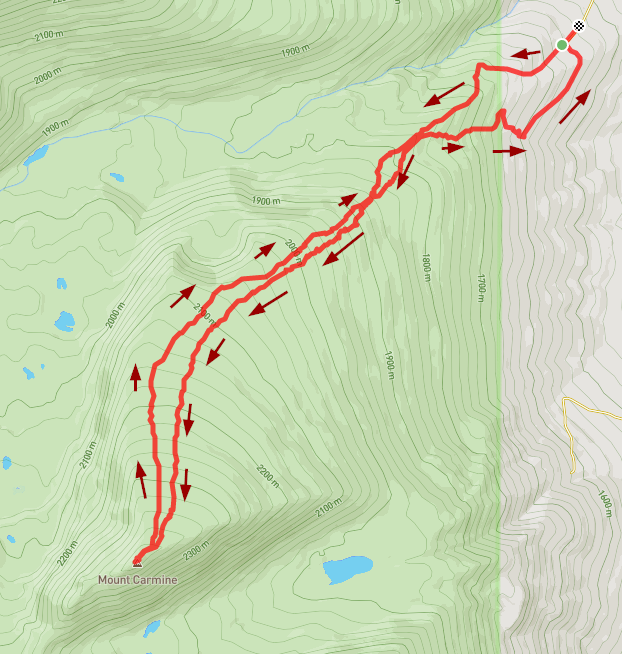 I was there while it was quite smokey and from the summit I could barely see the summit of Aspin Butte when I got there which was about a mile away. As far as setting up an antenna, I had no problems as the summit is on a ridge with many trees to attach a mast to. I didn't have any trouble getting the activation done on SSB, I even made a few VHF contacts. Here is a picture of the summit looking across to Aspin Butte after the smoke had cleared out a bit.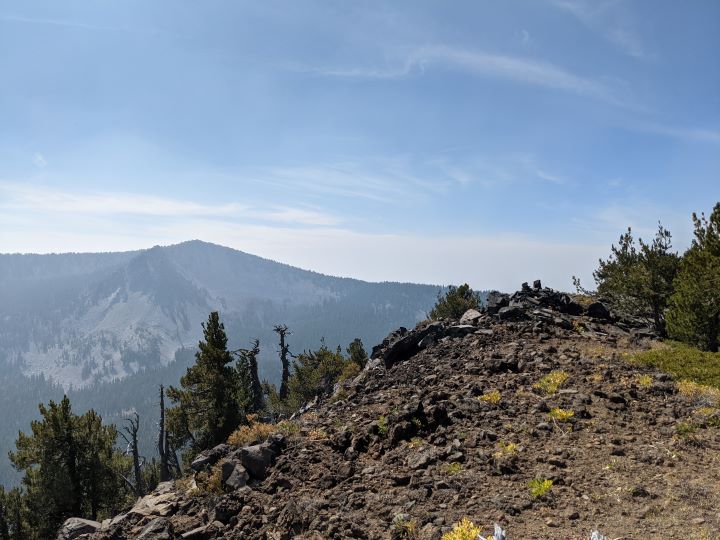 As you can see by my track, I mostly followed the route back but a little higher up on the ridge. As I got closer to the moss creek trail I was getting tired and wasn't paying attention to the map so I ended up not cutting over to the trail before I got to the manzanita. After trying to get over to the trail a few times, without success, I elected to just go downhill to a road I saw on the map which I then followed to where I parked. Total distance was 7.88 miles with 3300' of elevation gain.