Voice Cellular Coverage:
Don't know
Data Cellular Coverage:
Don't know
APRS Coverage:
Full two-way messaging
Stats:
6.8 miles roundtrip
1761 ft elevation gain
Start elevation: 3463 ft
End elevation: 4962 ft
We parked at Falls Creek Horsecamp off Forest Road 65, about 16 miles north of Carson, WA. A call to the Gifford Pinchot National Headquarters a day earlier revealed 3-4 feet of snow at a berry patch just north of Red Mountain at a similar elevation. Begrudgingly, we attached our snowshoes to the back of our packs and then started out on Race Track Trail #171. After a short distance we encountered a kiosk that told us to bury our poop and fill out a wilderness use permit. We dropped a copy in the box and safely tucked away our copy for when a Ranger approached asking to see it.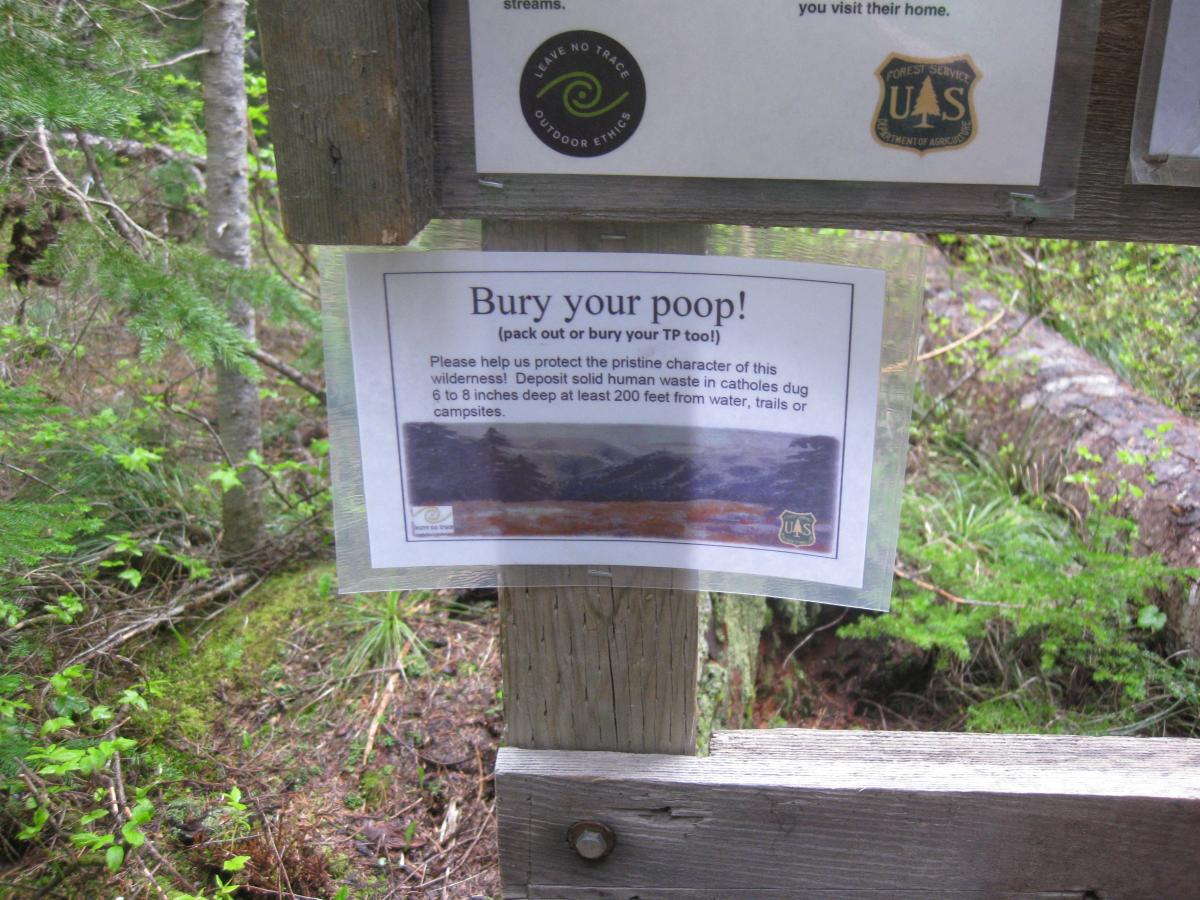 As we continued on, the sound of rushing water grew louder until a massive log bridge came into view. We crossed Falls Creek and then followed the well-defined and debris-free trail uphill fighting off cobwebs along the way. The temperature was nearly perfect--around 62 degrees--and occasionally the sun peeked through the clouds and wooded forest.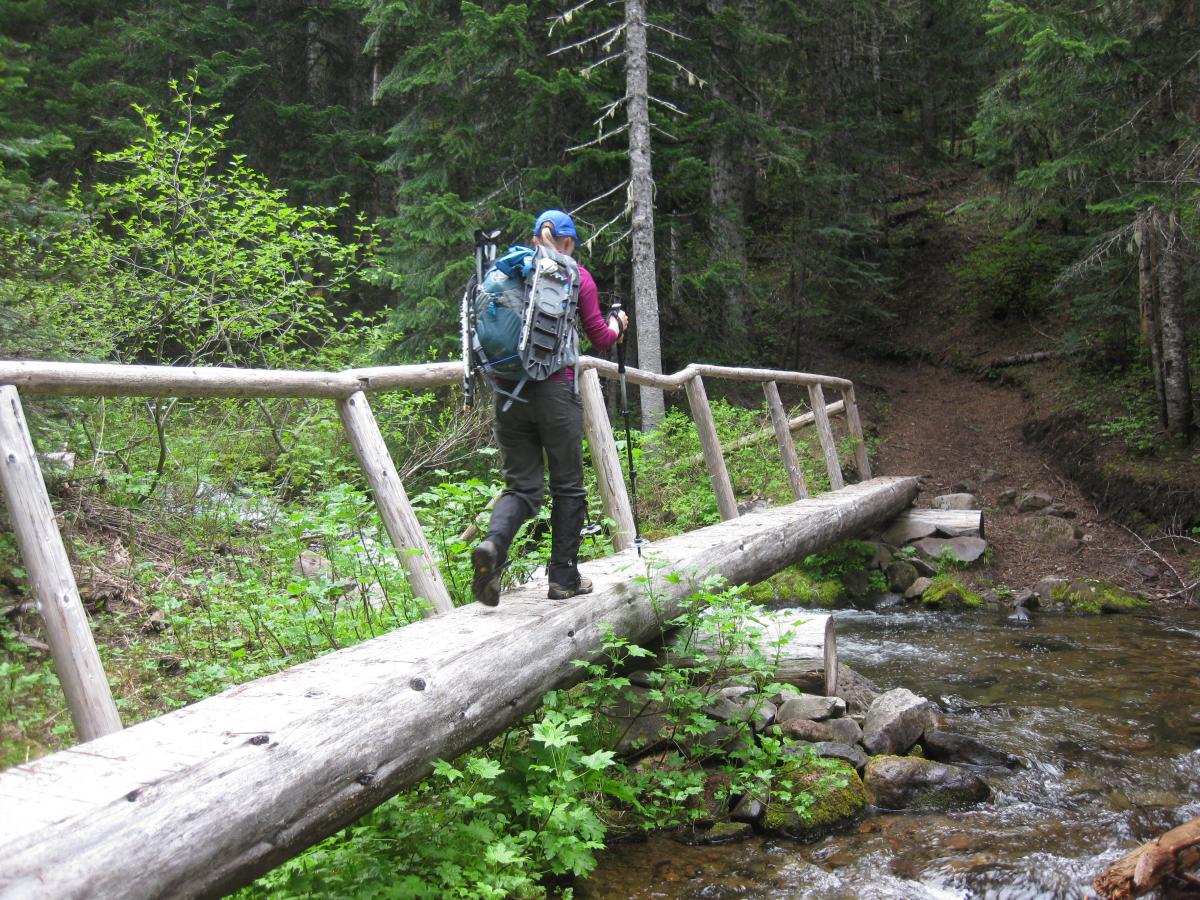 We continued to gain elevation for about 1.6 miles encountering on and off patches of deep snow that didn't quite warrant snowshoes but were enough to be annoying. Every once and a while we saw small patches of wildflowers like yellow glacier lilies and purple anemone.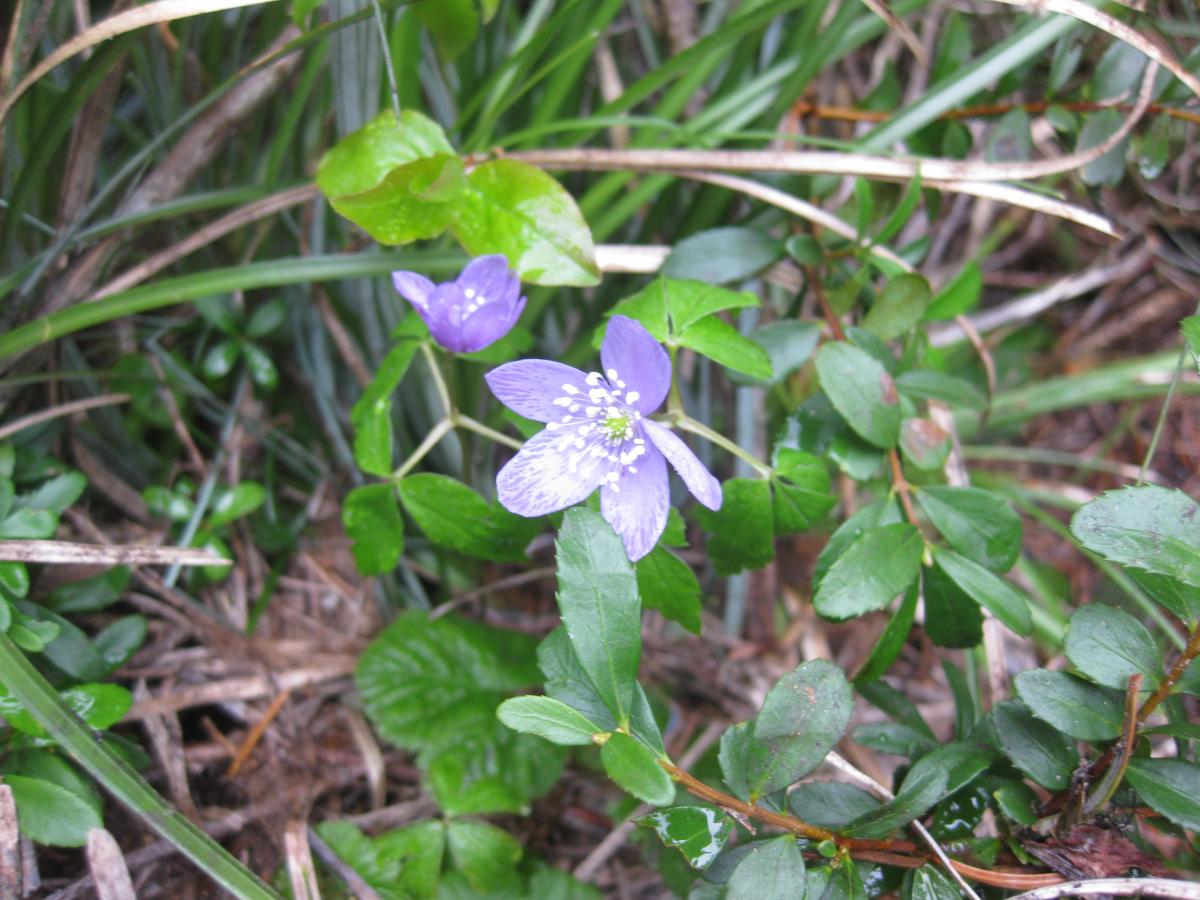 At one point we noticed the terrain change to sandy soil, stubby pine trees and volcanic rocks that reminded us of the high desert in central Oregon. The trail leveled out for a bit and then we descended 100 feet until we reached Race Track Lakes at the 2.5 mile mark.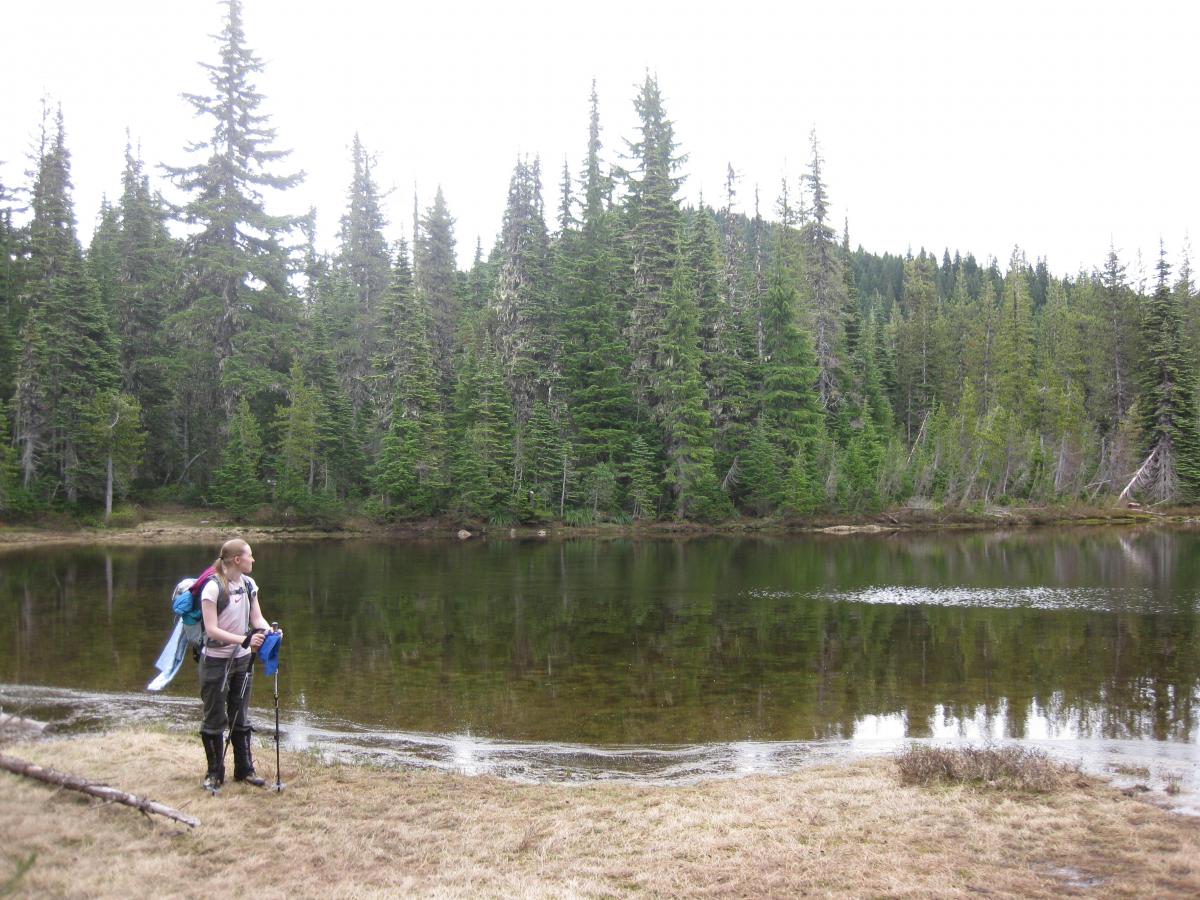 The trail at the edge of the lake disappeared into the water so we bushwhacked through the woods until the trail reemerged. We crossed a soggy meadow surrounding the lake, passed signs for the PCT and then headed back into the woods and gained 800 feet over the last mile. As we neared the top, a thick layer of clouds and fog moved in, and light rain started to fall. So much for the awesome view we were expecting on top! The deep snow returned with no end in sight, so we strapped on our showshoes and climbed up the mountain. A clear gravel road came into sight so we ditched our snowshoes on the side of the road and hiked up the last bit.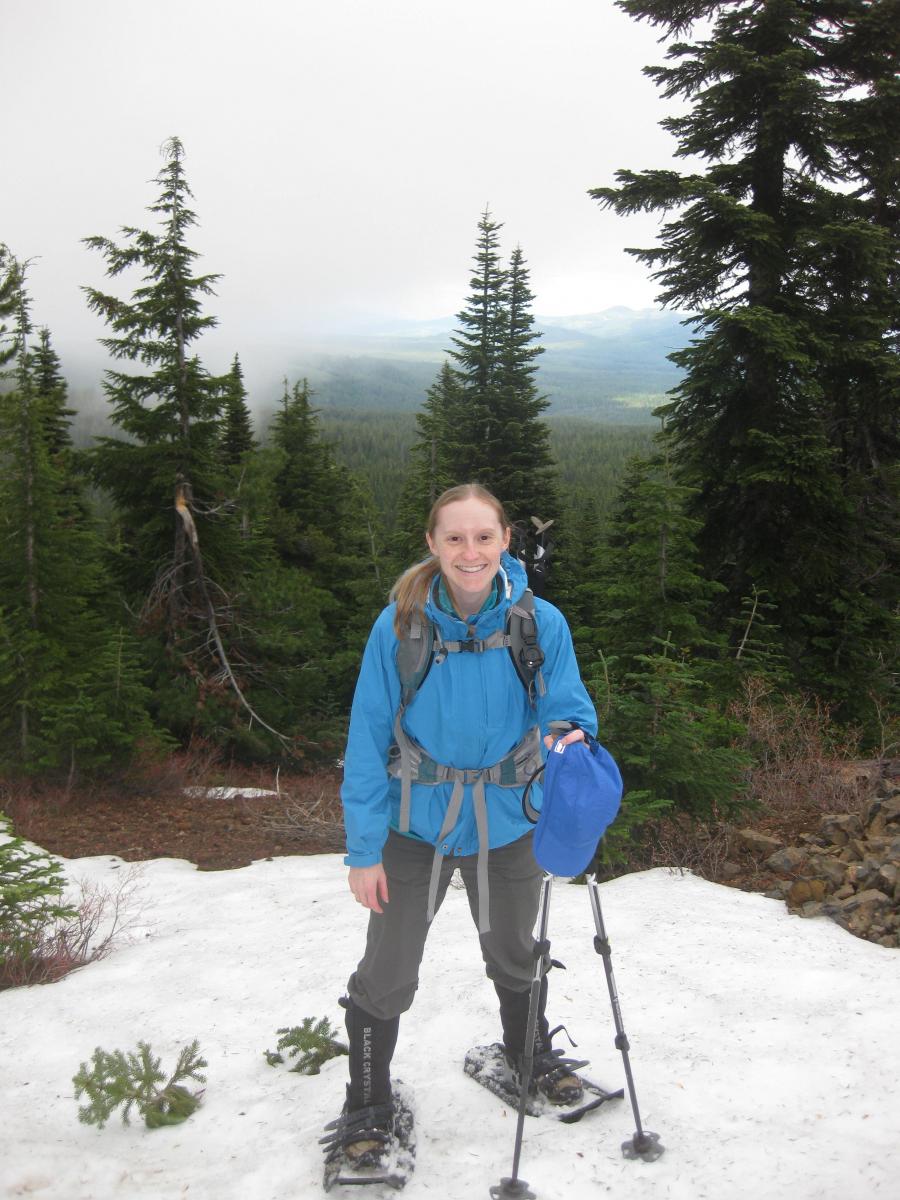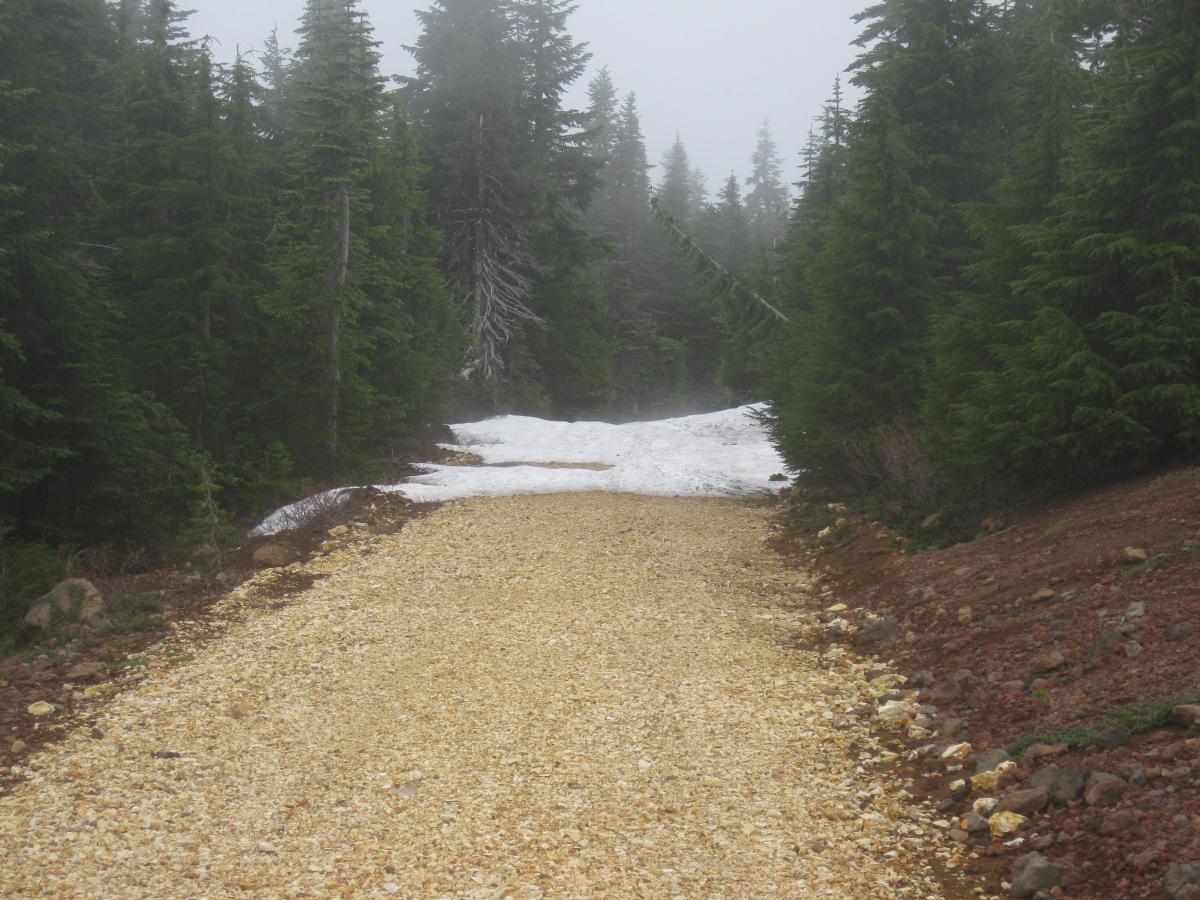 A small shed emerged through the fog on the left. A constant buzzing from the right came from a permanent shipping container with mounted solar panels on top, a small free-standing communications tower, and propane tanks. We followed a small carved out trail up to the very top where the boarded lookout tower stood tall. At this point, we were totally socked in with absolutely no view.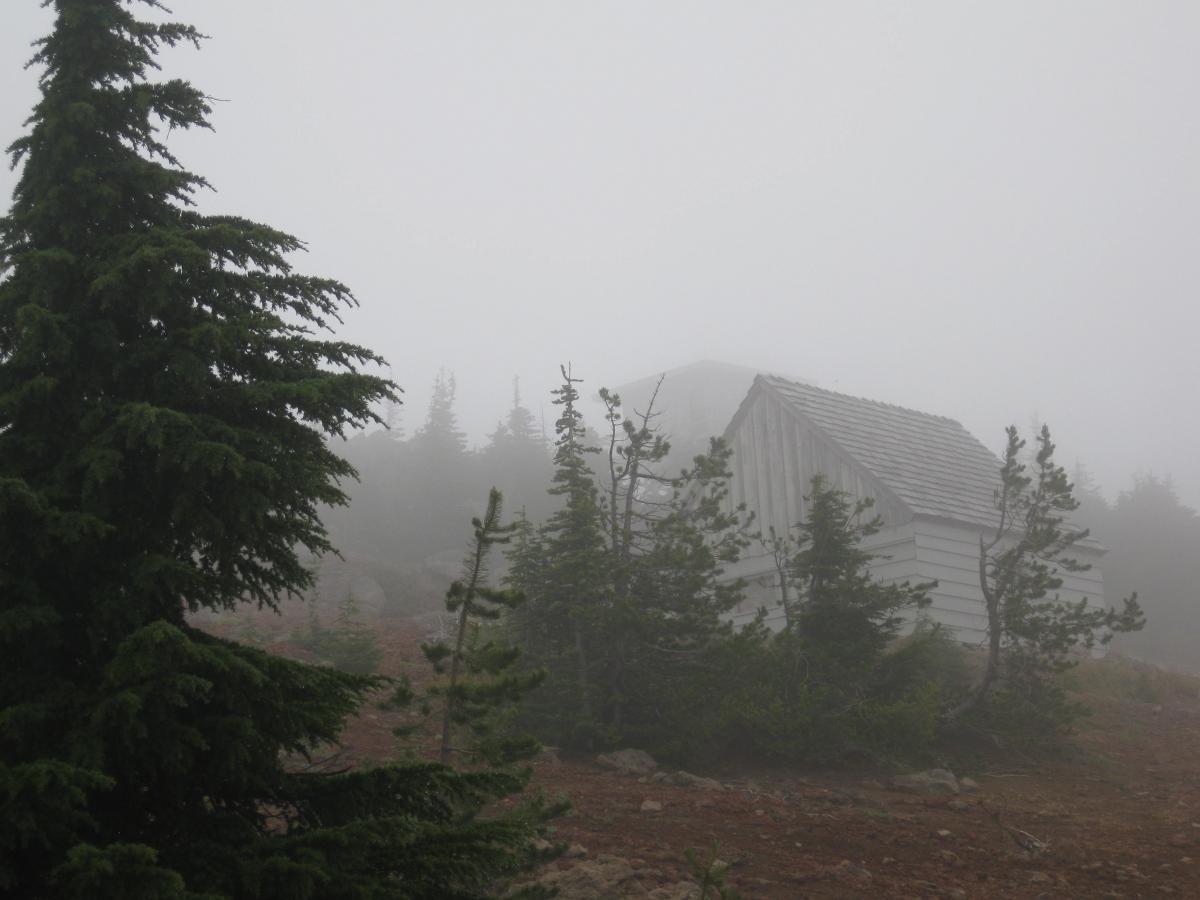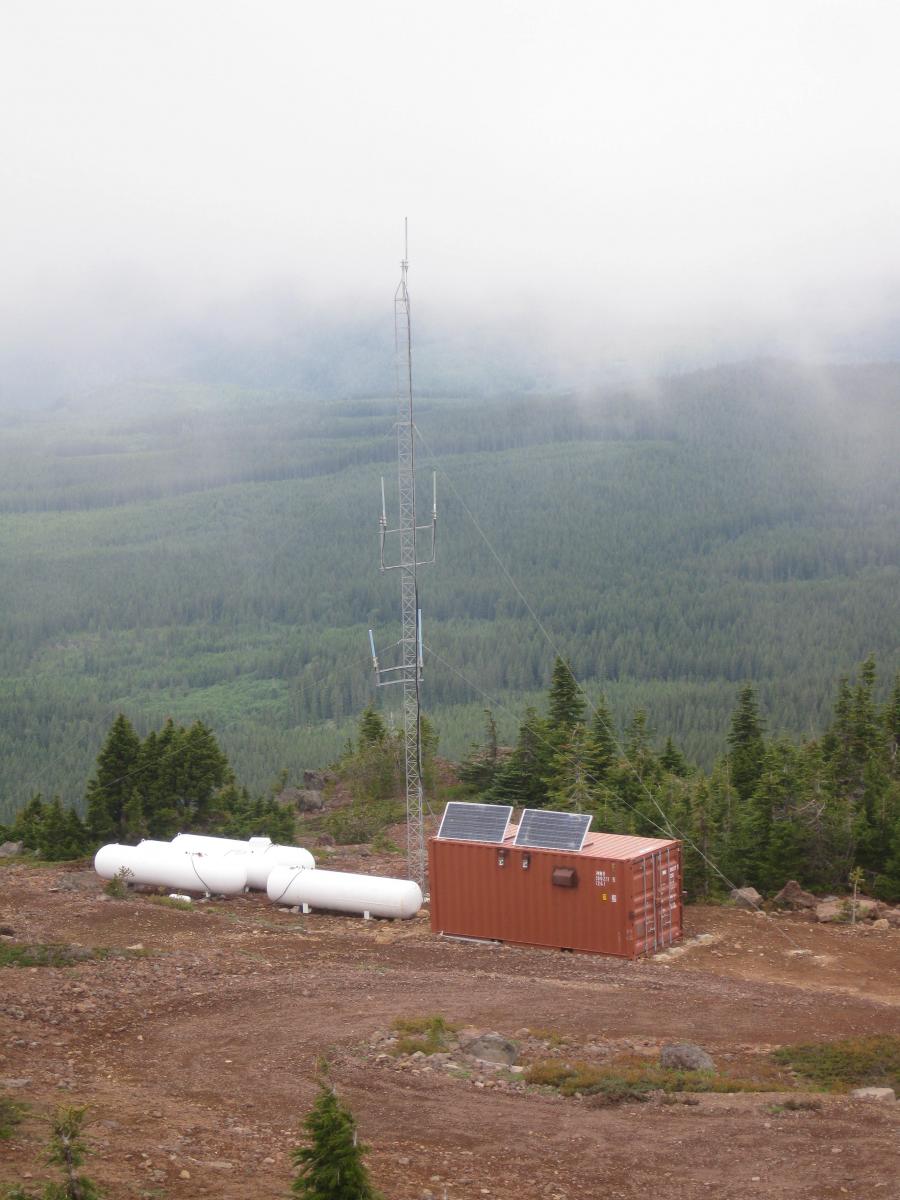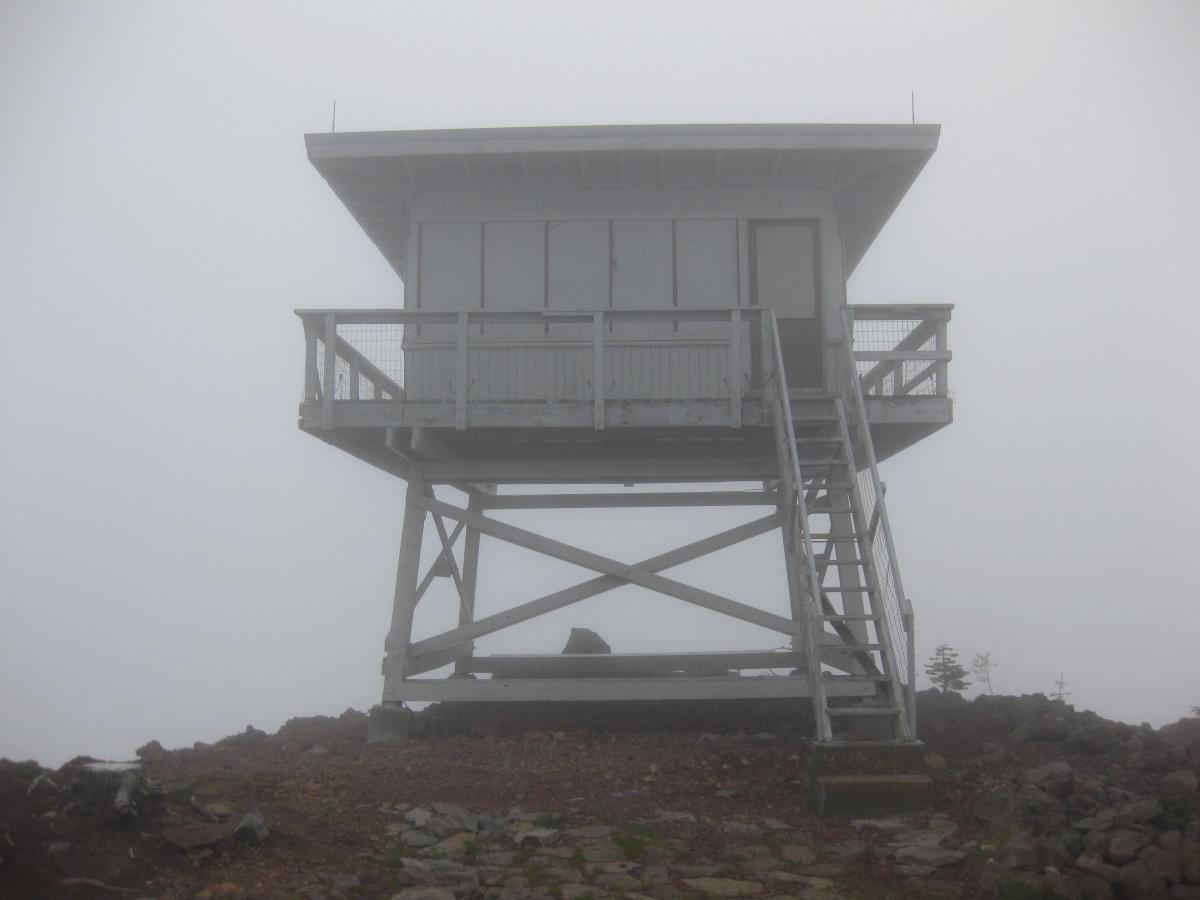 Dan (KK7DS) started to setup the antenna for 20m while I was happily snapping photos from the top of the lookout. He has his setup down pat and it usually takes him 5 minutes or less. After erecting the mast, guying it down, and attaching the whip and versatee, he pulled out the counterpoise and exclaimed "Oh crap, this isn't my counterpoise!" My stomach immediately dropped and my first thought was we wouldn't be able to make our contacts after hiking all this way.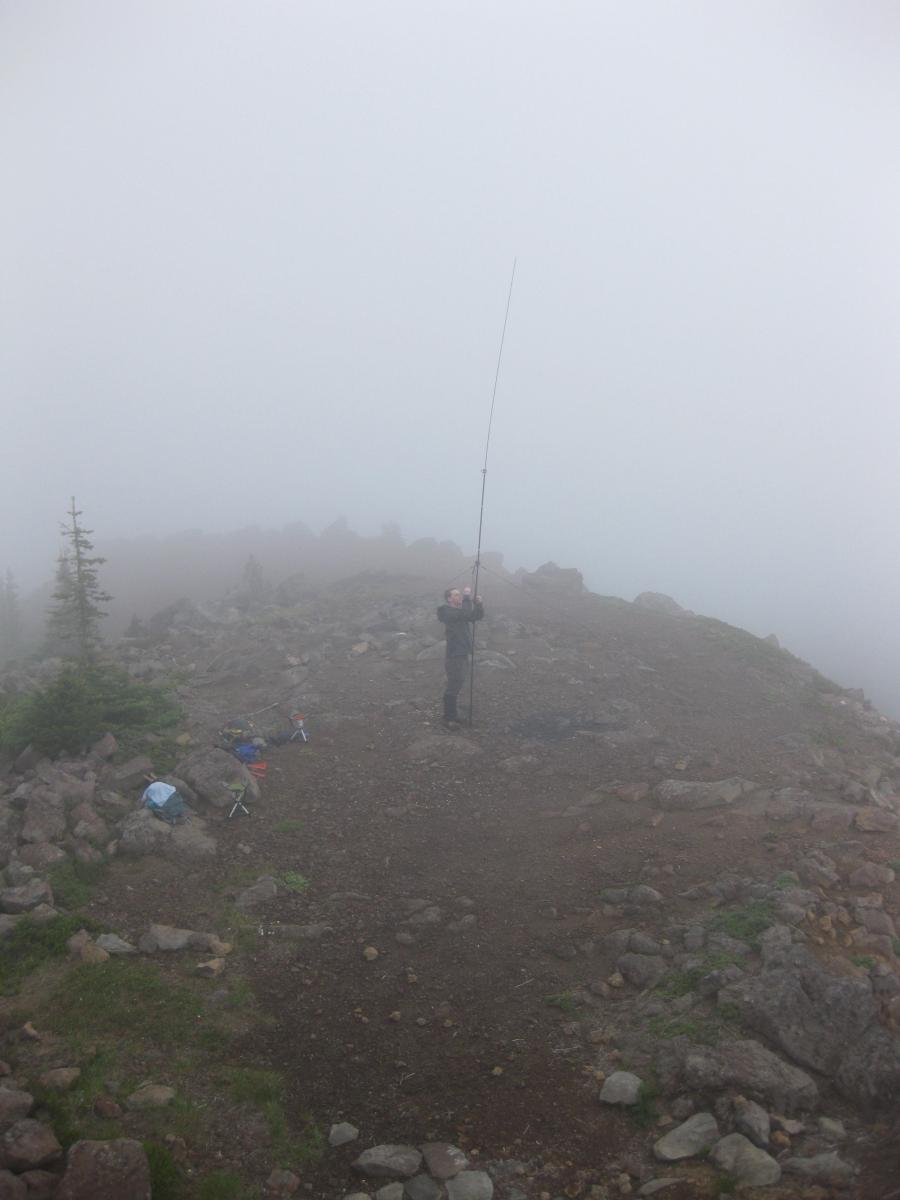 The wrong spool of wire from Field Day had accidentally been packed instead of the one that is nicely marked for 20m, 15m, and 17m and always used for SOTA. Oh well, he just had to spend a bit more time tweaking the length until the SWR looked good.
Dan spotted himself with APRS on his handheld and made his first three contacts without difficulty, but with so much QSB it quickly became difficult to reach anyone else. After half an hour and calling CQ way too many times, we both had enough contacts and decided to pack it up. After all, it was 15:00 and we still had 3 miles between us and car. The clouds lifted a little just as we were getting ready to head back down, so we took a few photos but still didn't have a view of St Helens, Rainier, or Adams that we expected.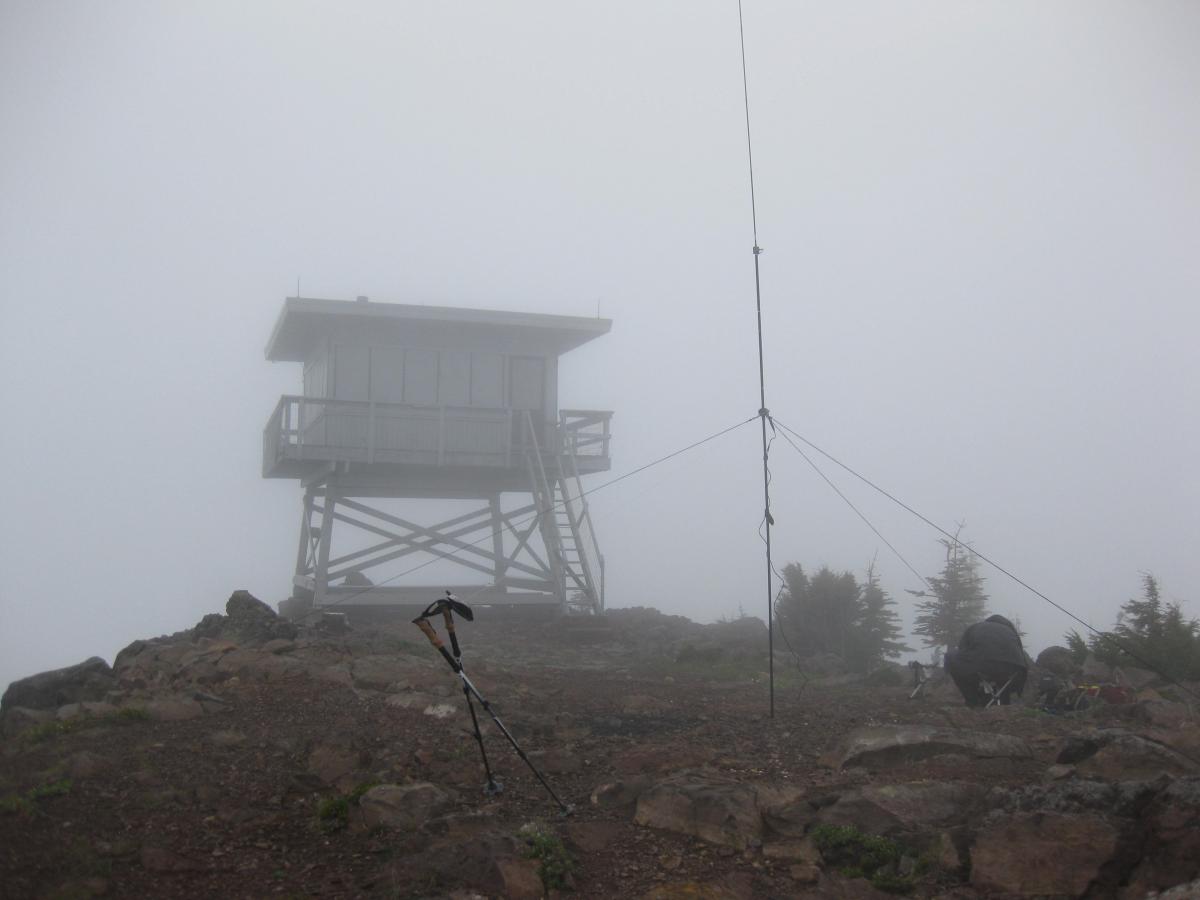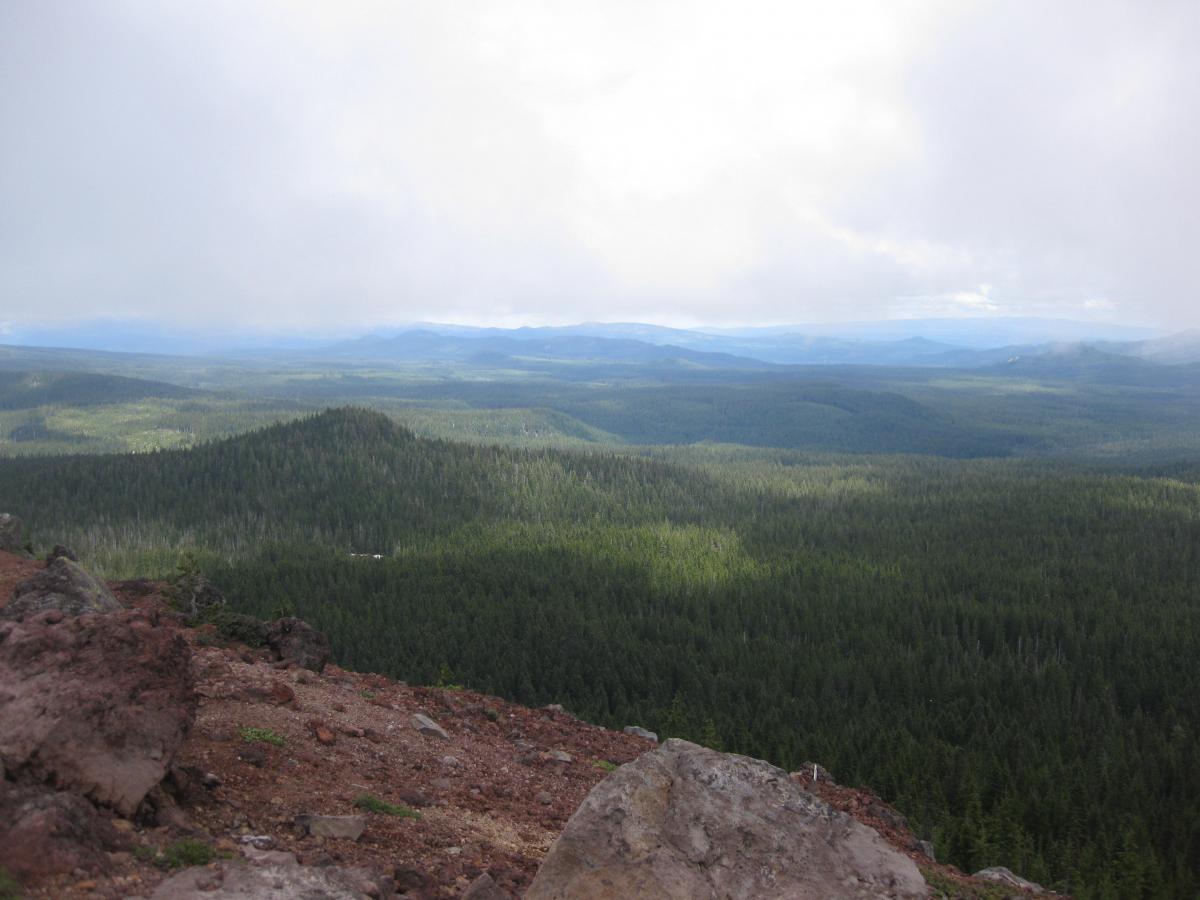 Overall, this was a great hike but would be better when the snow was completely melted (or snowshoed entirely in the winter). An alternative option would be the southern approach on the 6048 road, but there's a gate that prevents you from driving to the top. From the gate, hiking distance is a little bit longer than following the #171 trail. See our GPS track for this hike.