Voice Cellular Coverage:
Don't know
Data Cellular Coverage:
Decent, workable
APRS Coverage:
Good digi echos
Summary - This Haystack Butte is easy to get to, if you don't mind the possibility of new pinstripes (and it is not the MC-070 peak). The bushwhack is about a quarter-mile, not steep, and mostly requires negotiating large deadfall. The summit is broad, flat, tree-covered and doesn't have much of a view. VHF contacts are likely to be difficult. APRS digi and ATT digi service works reasonably well. Not really near any other hills (except as the crow flies), it is best planned as a solo hike.
Long Version - Haystack Butte, between Mt Adams and Trout Lake, is a relatively easy summit. Take FR23 to FR2380 to 46.076, -121.623 and the very sharp turn on to 060. The final stretch is very narrow with a number of opportunities to add a new pinstripes to your vehicle. There also aren't many places to turn out or around on this dead end road. I hiked up from 46.082, -121.612 (there is a place to turn around a little further on) where the base of the summit was brush free. From there it is a quarter-mile hike over a 200 foot climb. The bushwhack is easy, consisting mostly of navigating around large deadfall.
Here's the view from a little below the summit: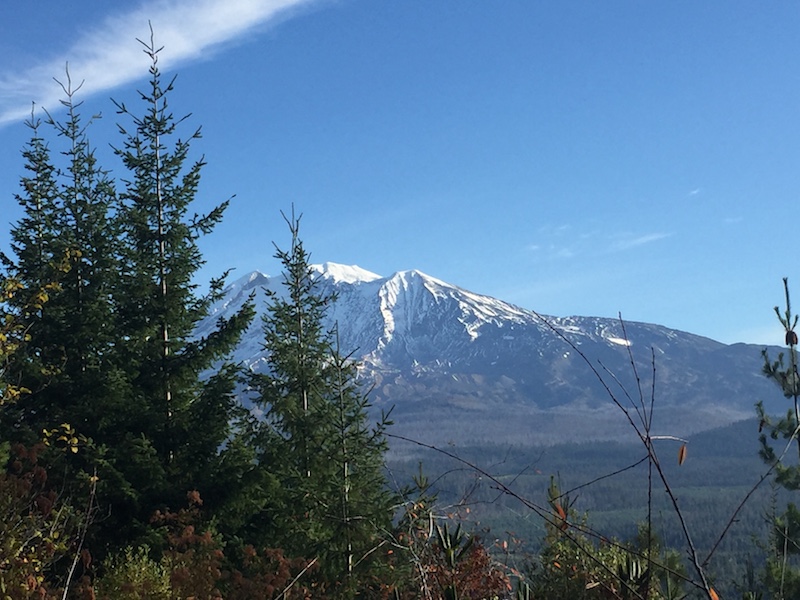 The summit is broad and flat, with limited views of Mt Adams, and lots of trees. The best photo opportunities are found in the open areas on the way back down. Given the distance from the metro areas and the intervening hills, VHF contacts are tough. As I had a second hike and summit planned, I didn't linger.
Haystack is relatively isolated from other potential SOTA peaks; for me, its main attraction was its unactivated status. I went to Steamboat the same day, a trip that involved some very rough forest roads and almost ninety minutes of drive time. While not a peak to go out of your way for, it is a relatively easy bushwhack and activation.