Voice Cellular Coverage:
Don't know
Data Cellular Coverage:
Decent, workable
APRS Coverage:
Good digi echos
Summary - Steamboat is an easy (if longish) drive from Portland, reached by a short climb along a lovely trail, and has terrific views of all your favorite volcanoes. There are trees for antennas and plenty of places along the ridge to sit and enjoy the view. VHF is relatively easy when using a decent antenna. Steamboat can be done in combination with West Twin Butte and Squaw Butte but you may want to plan to spend a long day here. What more could you ask for a six pointer?
Here's the summit from the trailhead: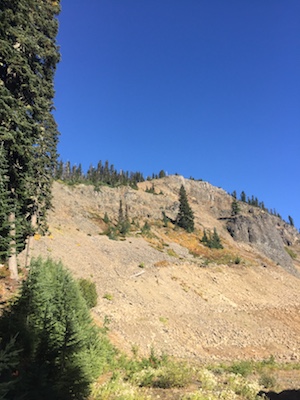 Long Version - Steamboat is that W7W rarity (at least for Portland folks), an almost drive-up six pointer. Even better, the views from the summit are fabulous, the hike is along a nice trail, and the roads are paved. This summit is definitely on my "visit every year" list.
I did this hill after Haystack Butte, which required a long, somewhat tortuous drive I will not repeat. When coming directly from Portland, the 100 miles takes a little more than two hours on paved roads; Google will give you good directions. The trailhead (46.134, -121.727) is on the south end of a gravel pit and there is plenty of parking. You'll climb about 500 feet over three-quarters of a mile of good trail to the open summit.
Once on top, you will find a geographic survey marker, the foundation of a lookout, trees for wires and plenty of places to set up. If you get bored with radio, look west for a good view of Mt Saint Helens or east for Mt Adams. A slow spin will reveal all of your favorite volcanoes.
You are high and in the clear, so VHF contacts are not difficult. I had a S2S QSO with K7EFW, who was on South Sister (141 miles sez the google), with five watts and a j pole. With a better antenna, who knows? You will have good APRS and digital phone (ATT) connections, too, so spotting is easy. Here is Mount Saint Helens: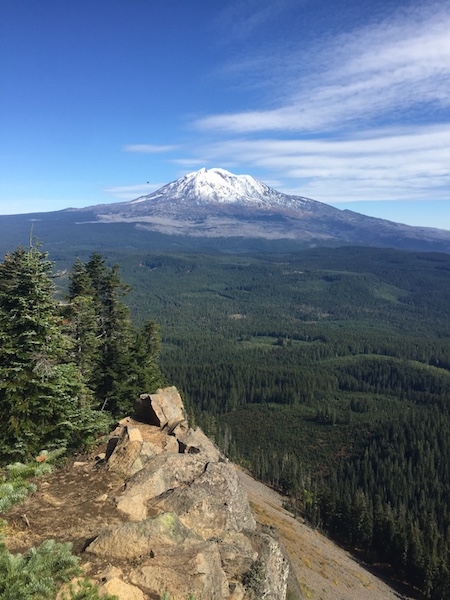 I was on the summit on a temperate, windless day; when the weather is not as nice, be prepared; you are completely exposed on all sides. And one caution, be wary of the exposed cliff on the southeast side of the summit, a fall from here will kill you dead.
To close, a view of the view to the east...