Voice Cellular Coverage:
Spotty, may not work at all
Data Cellular Coverage:
Spotty, may not work at all
Cellular Provider:
Verizon
APRS Coverage:
Some stations received, but no digi echos
UPDATE (as of June 18, 2017): Weyerhaeuser now requires a recreational permit in order to access this area.
With Field Day coming up next weekend, Taylor and I decided to make up for it with a skillfully executed a double-header activation. First, we went to Lakeview Peak, which is east of Kalama, just southwest of Mt Hood. This summit is on land currently controlled by a private party, but which must remain open to pedestrian traffic. Following the directions, we went as far as we could in the Jeep before reaching a gate. There is ample room there to stash a few vehicles for the hike up the forest road to the summit.
The hike itself was fairly uneventful, with mostly tame forest road conditions and a few false summits before reaching the actual spot. On top we found what would be a killer camping spot, if it were allowed. The flat and sheltered clearing made a good spot to operate. Unfortunately, the weather didn't cooperate with us, leaving visibility in the tens of feet.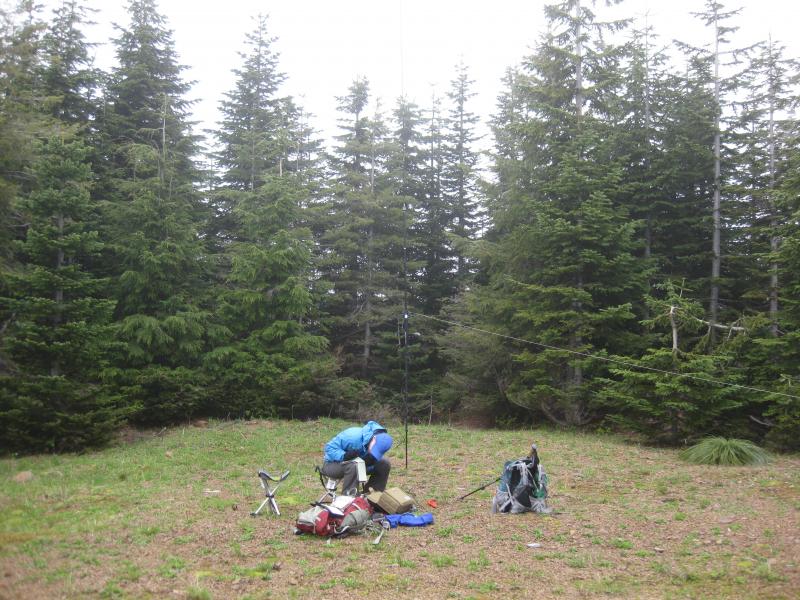 I was able to initially spot myself through some sort of miracle, but was subsequently unable to get any sort of data access on the smartphone after that. I was receiving nothing from APRS, so I had no indication that that would have worked at the time. However, upon returning home and checking my path, it looks like I was getting into the digipeater network without any trouble, but just not hearing those digis myself.
The trek was about five miles round trip with minimal elevation gain and easy trail conditions. Highly recommended for anyone looking for a relatively easy four-point activation.