Voice Cellular Coverage:
Don't know
Data Cellular Coverage:
No service at all
APRS Coverage:
Don't know
Summary - From Portland, a long, relatively easy drive (2WD okay) and a short, difficult bushwhack will net you a big beautiful view from a very small summit. 2M is likely to be difficult, bring a mast if you want to do HF, and be prepared to scramble if you want to operate from the summit itself. No ATT cell service. I didn't try APRS. The view is worth battling the brush and trees! Pro tip - if it has been raining or snowing, wear rain gear for the bushwhack or prepare to be soaking wet.
Long Version -- The road to Bare Mountain is in decent shape and can be navigated with a 2WD vehicle. I went up through Stabler WA, taking FR54 to FR58 and parking at 45.9125, -122.0652. From here the summit hike is about a third of a mile and 350 feet up. As others have noted, there is a driveable jeep trail part of the way past this point. Walking or driving, your bushwhack will start in a thick wall of brush and pine saplings (45.9113, -122.0694). Expect a stiff, if short, battle to work your way up the hill. Near the top, the brush will disappear and the summit ridge will be more evident. Carefully negotiate your way around to the north side of the summit block, find the cleft in the rock and climb up for a fabulous view. The south side of the summit drops pretty much straight down 700 feet into a volcanic crater.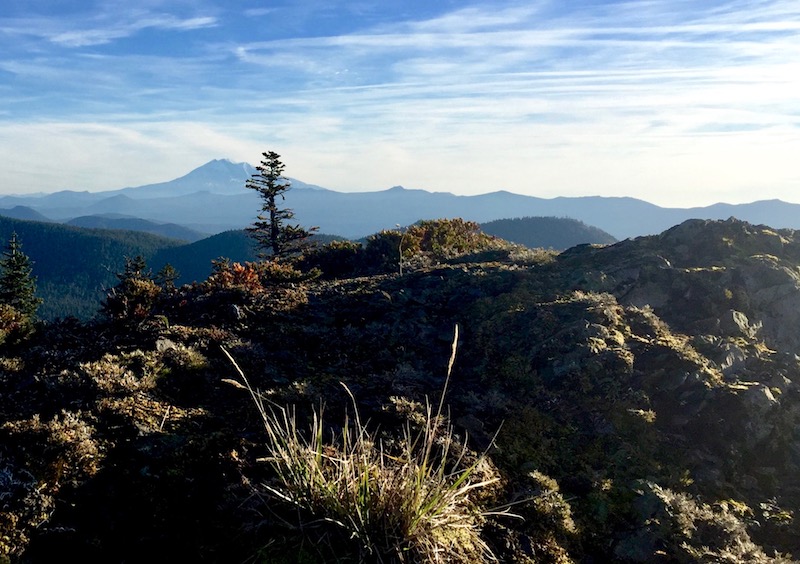 ATT cell service was non-existent. I didn't have APRS capability on this trip but it is generally good on summits in this neighborhood. Two meter contacts with urban chasers are difficult, too. Bring a mast if you want to work HF, at least from the summit. I was able to lash my mast to a small pine and throw my wire over the edge of the summit and work a number of stations on forty, thirty, and twenty meters.
Coming down through the thick, trackless brush and pine saplings, you'll be glad you saved a GPS waypoint where you left the road (you did save a waypoint, didn't you?).
This is a good hill to do in concert with West Soda Peak (LC-052) or West Twin Rocks (LC-057) or both.