Voice Cellular Coverage:
Don't know
Data Cellular Coverage:
Don't know
APRS Coverage:
Good digi echos
Summary - An easy to reach trailhead (2WD friendly), a nice trail, easy bushwhack, and not much of a summit view. 2M contacts are likely to be difficult, APRS okay, and cell service marginal to nonexistent. The summit is small and brush covered; there are lots of places for putting up a HF wire. Stop in the meadow on the way back down to catch a view of Mt Adams. One of my favorite hikes in this area. By the way, you can ignore this sign at least as far as West Soda Peak: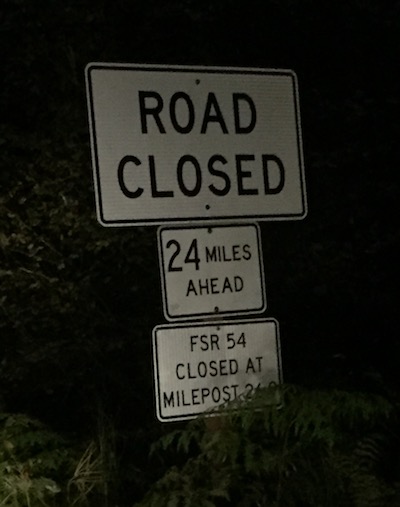 Long Version - Reach the trailhead by driving through Stabler to Hemlock Road to FR54. It is an easy drive for 2WD vehicles. West Soda Peak is on the boundary of the Trapper Creek Wilderness area. There are places to park (this is a popular trailhead) and you don't need a parking pass but you do need to complete a (free) wilderness pass at the trailhead. From the trailhead, the trail climbs gently for the first 0.4 miles through open forest before steepening sharply at the nose of the summit ridge. When you get to the top of the ridge (at about 1.1 miles) you will turn northwest and climb the ridge to the summit. There is no summit trail but the ridge is easy to follow as you climb through forest and a meadow (your only good view of Mt. Adams) on your way to the summit. Overall this is one of my favorite hikes in the area.
The summit itself is small, surrounded by trees and thick with brush and deadfall. No view, not many comfortable places to sit but lots of trees from which to hang a wire for HF. APRS works okay here but I didn't have cell service and my experience in this area suggests that urban 2M contacts are tough. This is a peak you do more for the hike up than for hanging out on the summit. Go back down the way you came; it is hard to miss the trail back unless you manage to drop off the east side of the summit ridge.
Consider West Twin Rocks (LC-057) or Bare Mountain (LC-061) for a multiple summit day; the drive is easy and the hills are close together.