Voice Cellular Coverage:
Good, very usable
Data Cellular Coverage:
Good, very usable
Cellular Provider:
Verizon
APRS Coverage:
Good digi echos
Black Butte is one of those mountains that is very recognizable and easy to spot on the horizon. Not because it has any disctinctive features, but rather because it has none. It looms darkly over the desert of central oregon as a perfect cone, easily distinguished from its sharp and craggy neighbors like Mt. Jefferson, Mt. Washington, and the Three Sisters. This rounded "butte" is not just a small hill -- the elevation at the top is over 6000 feet.
Friday night, Taylor and I camped at the nearby Smiling River campground, one of many along the Metolius River at the base of Black Butte. From there, we departed Saturday morning for the upper trailhead, a nicely documented and marked site at the end of a rough forest road. We started the ascent in rather cool overcast weather, and soon felt raindrops on our shoulders. For much of the trip up, we experienced sprinkles off and on. This was rather bizarre, since it had been 100F and clear the day before. However, we were thankful for the cooler temperatures as the climb is non-trivial and would have been much less comfortable in the usual summer heat.
Once on top, we took a few minutes to enjoy the unique sights available. No, not the view (which was mostly obscured by clouds at that point), but rather the multiple remaining structures on the summit. Treats for the hiker include a 1920's cupola building which was the former lookout, the more recent lookout tower, and the log cabin that houses the lookout staff.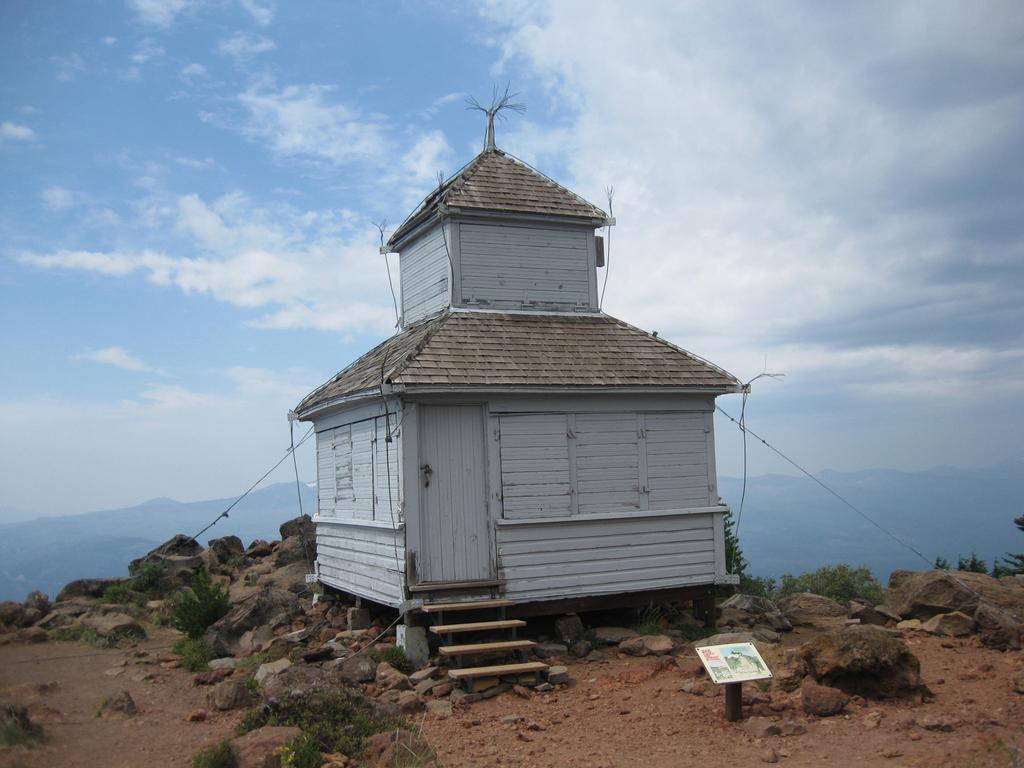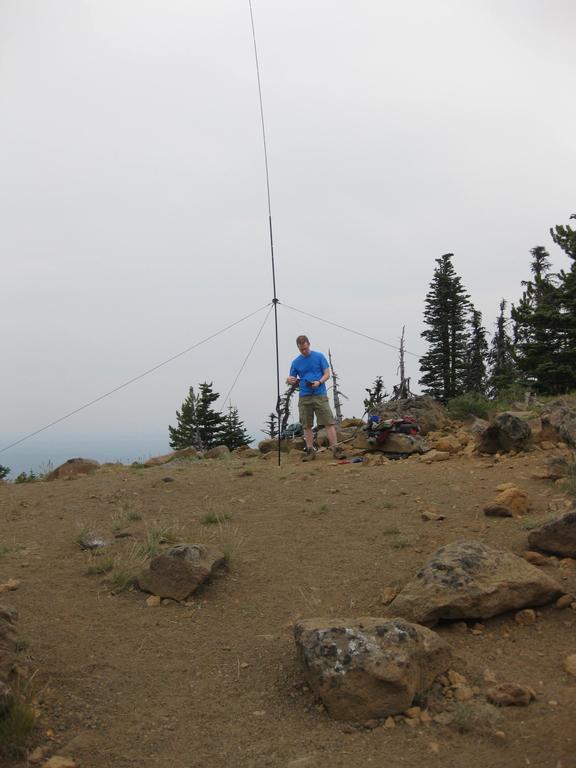 There is ample space on top and we selected a flat spot out, out of the way of the regular hikers, and with plenty of medium-sized rocks for guying the mast. After setting up and Taylor started to call CQ, we got a little chilly with the wind and occasional rain. At one point while Taylor was making her contacts, we caught a rogue chipmunk pilfering a PB&J sandwich right out of Taylor's pack!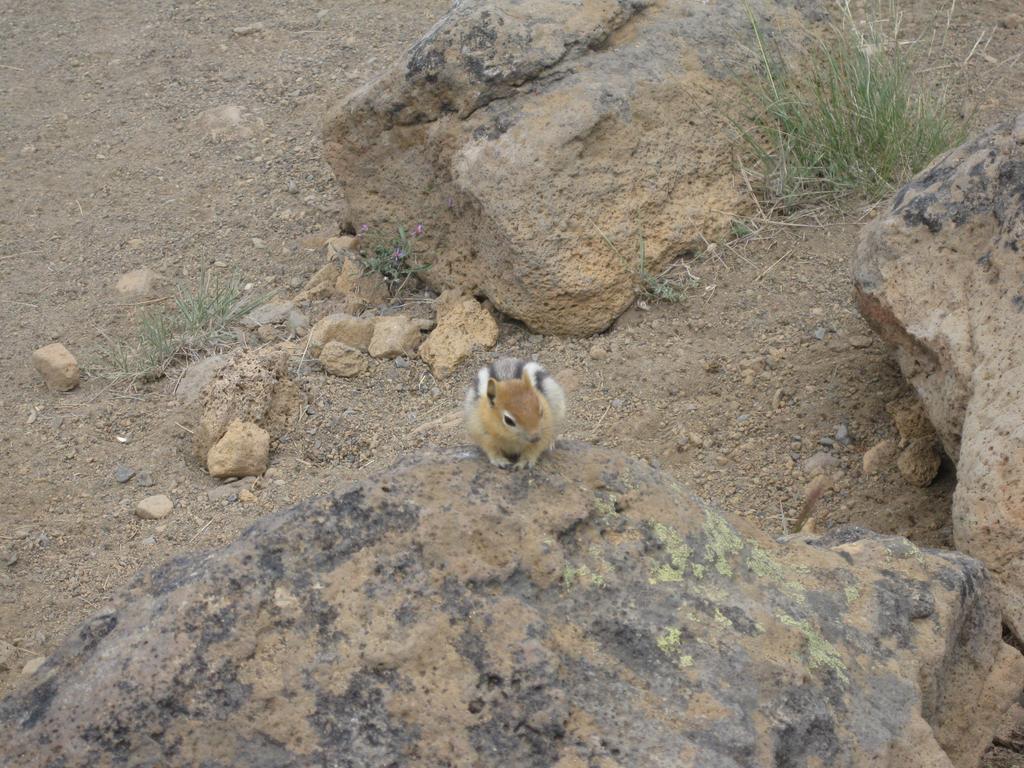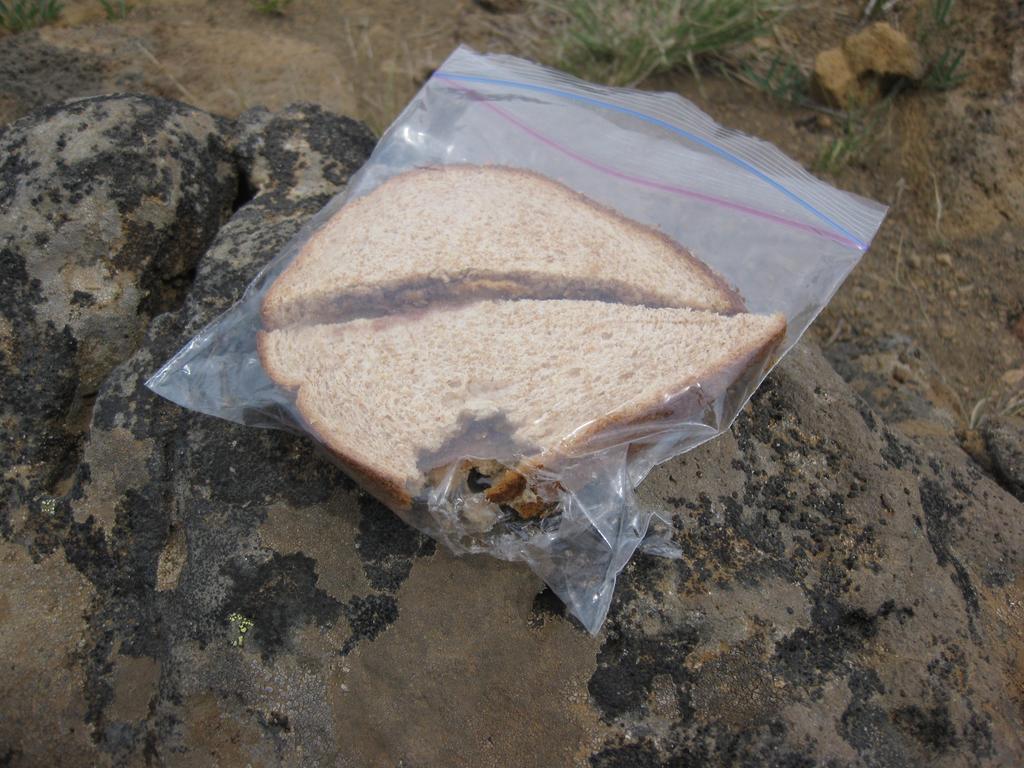 By the time I had finished my contacts, the fickle mountain weather had changed to clear sun and much warmer. This allowed us to take in the views a bit before heading down.
We passed a bunch of other hiking parties along the way up and down, so don't expect much solitude at this popular place.